By NSW Premier, Barry O'Farrell 
Final testing is underway on the Inner West Light Rail Extension as we get on with the massive job of building desperately needed public transport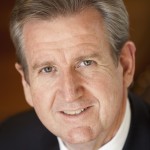 infrastructure across this State.
The $176 million Inner West Light Rail Extension will connect to the existing service from Central to Lilyfield using the former Rozelle freight rail corridor. The 5.6 kilometre link was one of the NSW Liberals & Nationals Government's key election promises and I'm pleased to report it is set to be delivered on time – and on budget.
The link expands the current light rail network by another 5.6 kilometres and commuters will have access to nine new stops; Leichhardt North, Hawthorne, Marion, Taverners Hill, Lewisham West, Waratah Mills, Arlington, Dulwich Grove and Dulwich Hill.
Finishing touches are being made on the brand new stops, which will feature a range of safety and accessibility features such as passenger information displays, platform shelters and seating, lighting, emergency help points, CCTV, wayfinding signage and a level crossing between platforms.
The new-look light rail vehicles are undergoing final testing between Lilyfield and Dulwich Hill. This testing has been taking place at night when passenger services on the existing line have stopped, however daytime testing has started as the extension prepares to open to the public. If all goes to plan, and the testing is completed successfully, the Inner West Light Rail Extension will be opened up to passengers this month.
This is a major project that is on track to be delivered on time and on budget. The design and construction contract was awarded by the NSW Liberals & Nationals to John Holland Pty Ltd in May 2012. Early works began one month later and major construction began in November of that same year.
Over the past 16 months more than 18,650 sleepers have been installed along the length of the corridor and more than 1,300 tonnes of rail has been laid. The extension also required 11 kilometres of overhead wiring and more than 15 kilometres of optic fibre cabling.
Once the extension opens, passengers will be kept up-to-date via the 45 real-time passenger information displays, and will be able to seek assistance at 45 help points across the new stops.
Light rail lies at the heart of our election commitment to make public transport a more attractive and reliable option for commuters as they move around Sydney. The Inner West Light Rail Extension is another example of how the NSW Government is building the infrastructure needed to expand the city's public transport network, improving access to services and encouraging more people to leave their cars at home.