Families, officials and aid agencies in countries including Britain, Australia and the US launch hunt for information about citizens
More than 200 Australians were confirmed safe on Sunday after a massive earthquake in Nepal killed more than 1,800 people, levelled buildings in Kathmandu and caused deadly avalanches reaching the heights of Everest.
All foreign countries have rushed to confirm the situation of their nationals in Nepal after Saturday's quake.
Authorities are still trying to contact hundreds of other Australians – 549 are registered as travelling in Nepal.
Worried family and friends have turned to social media.Australian actor Hugh Sheridan's brother is missing."Please. Anyone who is awake, please pray for my little brother Zachary who is on Mt Everest," Mr Sheridan tweeted.
An expedition leader for the Dreamers' Destination Treks and Expeditions tour company told reporters he had lost four members of his group, including an Australian.
"I have lost four team members in the avalanche – two Nepalese, one Chinese and Australian," said Temba Tsheri Sherpa. "But the situation is so bad, this is only the beginning of bad news."
On Sunday, Canberra man William Sargent phoned multiple hotels in Nepal in search of his 19-year-old son Alan, who was in Chitwan National Park when the earthquake struck. At 6pm, he had good news: a phone call from Alan to say he and his travelling partner were safe and well.
 Dan Fredinburg, a senior executive at Google, was among more than a dozen people confirmed killed by an avalanche that swept through Everest base camp.
Tom Briggs, marketing director for Jagged Globe, a Sheffield-based climbing and adventure company, confirmed the news "with the greatest sorrow". Two other climbers, Paul Greenan, from Dublin, and British-born Richard Brooks, from Sydney, suffered serious but non-life-threatening injuries including broken ribs, arm and pelvis.
"They saw the avalanche coming and were able to make a run for it but the camp was right in the middle of it," said Briggs. "Our thoughts and prayers go out to Dan's family and friends."
PM Abbott reassures families of missing Australians in Nepal
Prime Minister Tony Abbott has reassured family members of missing Australians in Nepal that they should not "assume the worst" after the deadly earthquake and aftershocks struck the region, killing more than 2500 people.
Almost 350 Australians are unaccounted for in the region, with the Australian embassy in Nepal able to get in contact with 200 of the 549 registered Australian travellers in the area.
Mr Abbott said information was coming in slowly from remote parts of what is a remote country. Australia has allocated $5 million in aid so far and "will consider what further response, what on-the-ground response we might be able to make in the next day or so."
"Australians do go trekking in that part of the world and because someone is trekking in that part of the world we shouldn't assume the worst," Mr Abbott said.
"Yes, there are Australians who are unaccounted for, and people whose family members, friends or loved ones are known to be in Nepal and northern India should at first do their best to make contact with them.
"A lot of people who are out trekking are not easy to contact. But if they can't make contact then obviously it's important to be in contact with the Department of Foreign Affairs [consular line]."
Foreign minister Julie Bishop said damage to infrastructure had made communication difficult but she also urged families to try to contact their loved ones directly.
Missing Australians in Nepal
Liam Oliver and Dianne Joy Coburn: Among them are 18-year-old Liam Oliver, from Victoria and his aunt Dianne Joy Coburn, 59, who are believed to be missing following the quake, ABC reports. Liams' brother Darcy Oliver has posted on Twitter, saying he is searching for more information about his sibling, who was travelling from Change in Nepal's east to Dharpani on the Annapurna Circuit. He said he doesn't know where his aunt was when the quake struck on Saturday.
Zachary: Australian actor Hugh Sheridan has made a desperate plea on social media to ask for prayers for his younger brother Zachary who is missing at Mount Everest following a deadly avalanche.
'Please. Anyone who is awake, please pray for my little brother Zachary who is on Mt Everest, I'd appreciate every prayer you have spare x,' the Packed to the Rafters star tweeted. His 20-year-old brother, from Adelaide, was last contacted four days ago. Several friends and family members have made a public appeal for help on Facebook and Twitter in a desperate attempt to find their loved ones.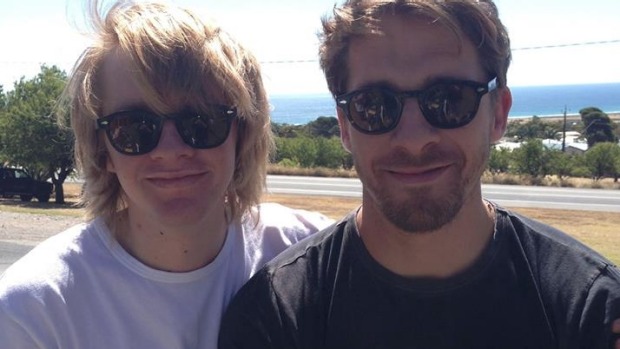 James Brinson: One of those missing is aid worker James Brinson​, an engineer whose parents live in south Sydney. The 27-year-old was volunteering for World Vision in Dhaka to provide water and sanitation, his father Ivor said, but he was trekking at Goecha La near the border of Nepal and India as part of a three-week holiday when the earthquake struck.
"I think he'll be alright, because he's a fair way away from Kathmandu," Mr Brinson said. He didn't expect any news for at least four days. "He left from a village. . .on Tuesday for an eight-day trek, so that means he's probably up at the pass now. Hopefully he'll be safe up there. "I wasn't too worried, but it's still worrying when you can't get into contact with people."
Justin Pomella: Justin Pomella, from Melbourne, was last contacted on Friday when he was at Swayambhunath Temple in Kathmandu.
His cousin Lauren Caruana has posted a Facebook appeal along with photographs of Justin during his travels in a bid to find any information. The post has been shared more than 300 times.
'If anyone has any information, please let me know as your help would be much appreciated,' she wrote.
Matthew Graves: Sydney business owner Matthew Graves was last contacted two days ago. Just hours before the quake, the 24-year-old posted a series of travelling photos in Pokhara, captioning 'The Nepali lifestyle'. His brother, Mitch Graves, is at home in Sydney waiting for news while their parents are overseas in America. 'It's a bit of a struggle trying to communicate to everyone. It is a waiting game at the moment,' he told AAP.
Richard Jaroszczuk: Victorian reserve grade football player Richard Jaroszczuk, 22, is believed to be missing from base camp at Mount Everest.
Australia offers assistance
An Australian Crisis Response Team will travel to Nepal as soon as possible to help establish the welfare of the missing Australians. Two humanitarian experts will also be deployed.
Australia will offer $5 million in aid, including $2.5 million to assist Australian non-government organisations, $2 million to support United Nations partners; and $500,000 to support the Australian Red Cross.
Red Cross International spokesman, Mark South, who is based in Kathmandu, said there was a significant need for medical supplies in the country because the hospitals were stretched for the massive numbers of injured.
Twitter and Facebook pages are showing images of Australians in Nepal and many families have reported dozens of loved ones missing on the Red Cross's Family Links website.
Australians concerned for family and friends are asked to try to contact them directly before calling DFAT's 24-hour consular emergency centre on (02) 6261 3305 or, within Australia, 1300 555 135.