Minister for Citizenship and Communities Victor Dominello said the Community Relations Commission (CRC) is today inviting applications for part-time Commissioners from people with professional experience and links to multicultural communities.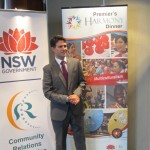 The CRC, a statutory authority established by an Act of Parliament, is responsible for upholding and implementing the Principles of Multiculturalism in NSW.
"The CRC is looking for candidates who are passionate about promoting our state's cultural diversity and will be recruiting new Commissioners through a skills-based assessment process.
"Our cultural diversity is one of our state's greatest assets so we want to recruit Commissioners whose background, skills and experience enable them to be effective and passionate advocates for multiculturalism in NSW.
"We are looking for people who can bring expertise in areas such as aged care/disability, community languages, finance, health, law, youth, new migrant communities and women.
"The Commission has recently welcomed a new leadership team that is keen to recruit Commissioners who can help to shape a new vision for the challenges that lie ahead," Mr Dominello said.
In January 2014, Vic Alhadeff was appointed as CRC Chair and Hakan Harman as Chief Executive Officer following Stepan Kerkyasharian AO's stewardship of 25 years.
Mr Harman said the Commission was looking to recruit up to six new Commissioners who would serve for three years terms.
"This recruitment is about bolstering the existing skills base of the Board – we want to complement the expertise of the current six Commissioners who bring skills in communications/events, economic development, sports/arts and youth issues.
"I encourage people with a passion for community service and a connection with our cultural diverse communities to apply."
A series of advertisements will be placed across metropolitan and ethnic newspapers over the next week.