Cricket world in shock as Australian batsman struggles for life
Australian batsman, Phillip Hughes, has undergone surgery and is in intensive care following emergency surgery after being struck by a bouncer. Hughes was hit below his helmet as he attempted a pull shot in a Sheffield Shield match at the Sydney Cricket Ground on Tuesday.
The sad news has left the world of cricket in shock and friends, family praying as Hughes remains in critical following scans on Wednesday morning.
Hughes was on the brink of a return to the Australia Test side after 18 months away, but a delivery by New South Wales paceman Sean Abbott saw the batsman collapse and hit the ground during the Sheffield Shield match between New South Wales and South Australia. Before being carried off on a stretcher and taken to St Vincent's Hospital, he received 40 minutes of medical attention at the SCG. The match was abandoned by Cricket Australia along with the rest of the domestic programme following one of the most sickening blows in cricket history.
Cricket Australia's Bupa Support Team Doctor, Dr Peter Brukner detailed a traumatic day for cricket. "Phillip Hughes sustained a severe head injury while batting for South Australia at the SCG today," commented Dr Brukner.
At approximately 5.20pm, the hospital confirmed that Hughes was out of surgery and remained in a critical condition in the intensive care unit, reports ESPNcricinfo.
Phillip Hughes remains in a critical condition overnight in intensive care in a medically-induced coma following emergency surgery in a Sydney hospital, according to report. The next 24 to 48 hours will be crucial for Hughes as he will continue to be closely monitored by the hospital staff, with all thoughts turning to the batsman's welfare. The Sheffield Shield match has been abandoned by mutual agreement between both teams' captain and coach.
Phil Hughes remains in a critical condition. St Vincent's will update should his condition change.

— St Vincent's Sydney (@SVHSydney) November 26, 2014
The 25-year-old Hughes was batting for South Australia in a Sheffield Shield match against New South Wales at the Sydney Cricket Ground on Tuesday when he was felled by a rising delivery that struck him behind the left ear. He was treated on the field by medical experts, including doctors who were flown by helicopter onto the ground, before being taken to St. Vincent's by ambulance. 'Phillip's condition is unchanged and he remains critical,' said Brukner but assured that "Phillip is receiving the best possible medical care".
Brad Haddin, Steve Smith, David Warner and Moises Henriques were among those visiting St Vincent's Hospital, where the 25-year-old had a 90-minute operation to relieve pressure on his brain.
Players of South Australia and New South Wales have also been offered counselling. Cricket Australia's executive general manager of team performance Pat Howard said: 'We've spoken to players and the ACA (Australian Cricketers' Association), and given how players across the country are feeling right now, it's just not the day to be playing cricket and we understand that. "Phillip Hughes continues to receive the best possible medical care. The thoughts of his team-mates and the wider cricket community are with Phillip and his family and friends at this difficult time" reports Daily Mail.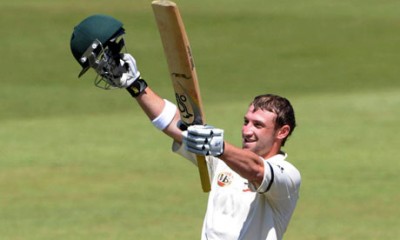 The Cricket Australia CEO James Sutherland said: "We were all in shock and … pleasingly there was medical attention he was able to receive immediately at the ground and then to be transported to hospital and now we hope that whatever the procedure is that he's going through, he comes through in the right way and gets the best possible care and recovery.'
Hughes has played 26 Test matches for Australia since his debut in 2009 but hasn't been able to cement a regular spot in the starting lineup. He was highly regarded by team-mates and rivals, and regular fans who appreciated his no-fuss approach to the game.