A China theme park in Australia featuring a full-size replica of gates to the Forbidden City and a nine-storey temple could rival the Sydney Opera House as a tourist drawcard, officials said on Monday.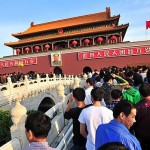 The planned $500 million attraction moved a step closer after Wyong Shire Council in New South Wales signed a deal on Sunday to sell 15.7 hectares of land to the company behind the proposal.
Construction of the seven-sectioned theme park 80 kilometres north of Sydney is set to begin in 2015 and be finished by 2020.
On completion it is expected to employ more than 1000 people.
Advertisement
"What this proposal will do is turn the Wyong Shire into a tourist mecca and bring millions of dollars worth of tourism into the area — which will have a flow on effect to the entire region's economy," Mayor Doug Eaton said.
"Outside the Opera House and Harbour Bridge, this has the potential to be among the biggest tourist attractions in the state."
The first stage of the theme park to be built is likely to be the replica of an entrance to the Forbidden City, Beijing's Imperial Palace, complete with red walls and golden roof.
There will also be a section constructed in the architectural style of the Tang and Song dynasties, with small courtyards typical of a Chinese neighbourhood, and another in the style of the Ming and Qing dynasties.
Other areas will include the temple, a theatre, a royal villa, and a children's section devoted to pandas, though not including any live animals.
"It is going to be a unique $500 million tourist attraction, employing more than a thousand people and bringing economic prosperity to Wyong Shire," said Bruce Zhong, chairman of Australian Chinese Theme Park, the private company behind the project.
The park will tap in to the growing number of tourists from China visiting Australia.
China is Australia's fastest growing and most valuable international tourism market, worth more than $3.8 billion in 2011, with more than 400,000 Chinese visitors coming to New South Wales state each year.