Exclusive interview to Tribune International on Australia Day
By Syed Atiq ul Hassan;
Victor Dominello started his political career in New South Wales as a Councillor of Ryde City in 1995. Born and raised in the Ryde area, Victor Dominello started is professional career as a lawyer and practiced 14 years in high and supreme courts, before he joined politics. He is a Liberal Politician but people see him as a leader for all. He has earned remarkable reputation from every section of people and groups in New South Wales. Since he became the Minister for Citizenship and Communities, he has changed the image of multiculturalism in New South Wales. He has done remarkable work in bringing diversified people of NSW together. He has played a major role in restructuring and giving a new look of multiculturalism to the (former) Community Relations Commission which is now 'Multicultural NSW'.
Tribune International is grateful to the honourable minister Victor Dominello who took out some time from his busy January schedule for an exclusive interview to Tribune International on Australia Day.  Here is what he says on Australia Day: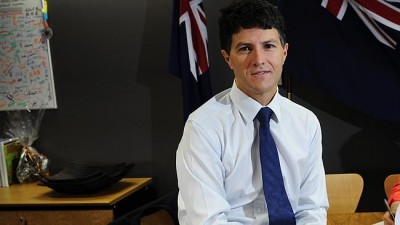 Question: In your view what is the significance of Australia Day for new Australians, the Australians from ethnic background.
Australia Day is a time to celebrate the things which make our nation great. It is a time for all Australians to reflect with pride on the strength of our democratic institutions, volunteering ethos, sense of mateship and cultural diversity. Since the First Fleet arrived in 1788 we have been a nation built on the contribution of new migrant communities. I truly believe that our diversity makes us stronger as a nation. Today Australia's population of 23 million is made up of citizens from over 150 different cultures.
Our national day means different things to different people. For many 26 January will be a day of excitement, as they families make their way to local town halls to make the solemn pledge to become citizens and join the Australian family.  They may have been born abroad, but this Australia Day they will commit themselves to this nation, with all that responsibilities and privileges that entails.
I have the privilege of attending a Citizenship Ceremony in my electorate of Ryde on Australia Day. Seeing the joy on the faces of our newest Australians always fills me with a sense of pride.
Question: Now a days people are watching terrible stories of terrorism and killing on the name of religion & faith, in the media then they get involved into conflicting and offending debates on social media, in this global environment, how can people of multicultural NSW separate them for these things and maintain understanding and promote harmony in our mixed society?
In 2015 we continue to face many global challenges, none bigger than the phenomenon of young Australian men and women travelling to Iraq and Syria under the curse of violent extremism. I think the best way to maintain community harmony in NSW and Australia is to stay true to our common values.
As articulated by NSW Premier Mike Baird during the Martin Place siege last year, these are the values of freedom, democracy and harmony. They've been the cornerstones of our success as a country and a society for the more than 100 years. I think the outpouring of emotion and the way in which our community galvanized together in the face of terror and tragedy really showed the best of humanity. We must be vigilant to protect our democratic values and our precious community harmony in the face of those who seek to threaten it.
Question; Do you think, we need any change in the legislation in context with what happened at Martin Place and what happened in France, and also what happened in France can it be happened in Australia?
The Federal Government is seeking to enhance its counter-terrorism laws and I know the NSW Police is also working diligently to ensure its practices and procedures are informed by the tragic events which took place in Paris earlier this month.
Question: Culturally people of ethnic background don't get much involved in Australia Day except BBQ and a holiday type activities, what can be done more to involve everyone celebrating Australia as a National Day for all like in many other countries?
Under the NSW Government's Harmony in Action plan which was released last year we've committed to supporting initiatives which promote our shared Australian values.
Projects which promote our volunteering ethos, appreciation of Indigenous history, and the celebration/commemoration of national days such as Australia Day and Anzac Day are being encouraged.
Through the Multicultural NSW Celebration Grants program we've recently awarded funding to a number of multicultural organisations which are hosting events this Australia Day. It's very pleasing to see people from multicultural backgrounds embracing the opportunity to learn more about our nation's history by getting actively involved in Australia Day, Anzac Day, Centenary of Anzac initiatives and Indigenous celebrations like NAIDOC Week and Reconciliation Week.