By NSW Premier, Barry O'Farrell 
Since introducing the State's first integrated train, bus and ferry timetable across Sydney last October we have been looking at ways to increase parking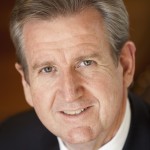 options for commuters.
We want to make it easier for people to park their cars close to major train stations, and over the next 18 months I'm pleased to announce more than 1,000 extra parking spaces will be made available to commuters.
Hundreds of car spaces near train stations were fenced off exclusively for staff use for decades under Labor. The NSW Liberals & Nationals Government is challenging the way things have always been done and as a result, we will be handing the vast majority of these car spaces over to the public – in a big win for commuters.
Initially there will be 370 car spaces freed up for commuters, particularly at key interchanges, including 99 at Campbelltown, 84 at Blacktown, 77 at Penrith, 56 at Liverpool, 26 at Gosford, and 21 car spots at Hornsby. These car spaces will be the first of more than 1,000 to be progressively freed up over the next 18 months.
Last year we successfully converted 12 staff-only car spaces at Cronulla Station by removing boom gates. That decision served as a precedent for the further reallocation of car spaces for public transport customers and Transport NSW has since identified many more.
While some will be retained for operational needs the NSW Government is aiming to return the majority of car spaces currently reserved for staff to commuters.
This is a victory for common sense. For too long, one of the biggest complaints has been the availability of parking at train stations. This initiative shows we are listening and working to improve passenger journeys and experiences.
This initiative is part of the NSW Government's 'Customer First' program that is focused on improving the public transport experience for everyone using the network by modernising and refreshing stations across the network.
Another Customer First initiative includes a comprehensive station improvement program, that will target 19 key stations, and will see these stations undergo major clean-ups, security upgrades, as well as measures to de-clutter walkways and improve signage.
The 19 key stations undergoing the refresh program include Asquith, Berala, Blacktown, Bondi Junction, Burwood, Caringbah, Carramar, Chester Hill, Granville, Gymea, Hurstville, Kogarah, Lidcombe, Martin Place, Parramatta, Penrith, Redfern, St Leonards and Strathfield.
Additionally, we've previously announced the construction of 10 new commuter car parks as part of the $770 million Transport Access Program, which will provide more than 1,200 additional car spaces. Two have been completed at Kiama and Moss Vale, while others will be built at Sutherland, Oak Flats, Gordon, Glenbrook, Granville, Padstow, Canley Vale and Lindfield Stations.
These initiatives are part of our plan to deliver cleaner, more modern and more convenient transport options for everyone using Sydney's public transport network.