Sydney; Minister for Education Adrian Piccoli today announced the NSW Government will spend $8 million to address complex healing and wellbeing issues faced by students and their families at some of the State's most remote and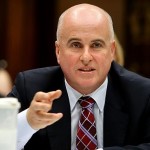 disadvantaged schools.
The new funding will be used over four years to improve student wellbeing, provide additional counselling support and build the capacity of students and communities to deal with challenging situations and distressing events.
Mr Piccoli said the investment will complement the existing Connected Communities schools program — where 15 schools have partnered with Aboriginal communities and other government agencies to bridge the gap in educational achievement between Aboriginal and non-Aboriginal students.
The Connected Communities Healing and Wellbeing Model builds on recognition that schools can have a profound and positive influence in many communities.
"Some of our students face confronting situations in communities where problems are embedded across generations," Mr Piccoli said.
"These issues, which affect healing and wellbeing, can erode those students' chances of learning effectively.
"The impact of dispossession and dislocation on families and communities plays out across generations and can directly affect the opportunities for learning among today's students."
The Connected Communities Healing and Wellbeing Model will be extended to other remote schools that are not part of Connected Communities. It will include case management and a holistic plan to address individual student needs.
"The Connected Communities Healing and Wellbeing Model will better enable schools to target assistance where and when it is most needed," Mr Piccoli said.
"But we will also be supporting staff and building capacity among community members by offering training programs to develop skills so they can be active participants in the healing process.
"Education changes lives and we don't want anything to stand in the way of a student being able to take advantage of every possible opportunity in their day-to-day learning."
The 15 Connected Communities schools are:
Boggabilla Central
Bourke High
Bourke Public
Brewarrina Central
Coonamble High
Coonamble Public
Hillvue Public
Menindee Central
Moree East Public
Moree Secondary College
Taree High
Taree Public
Toomelah Public
Walgett Community College
Wilcannia Central
"Connected Communities schools are community hubs," Mr Piccoli said.
"They were created to provide an innovative approach to schooling and a chance to do things differently — to address wider issues that may have undermined students' opportunities to learn.
"A fundamental element of the strategy is building productive partnerships with the local community and with other organisations that have responsibility for young people and families."
A key to the new model will be to further strengthen collaborative relationships with local agencies, such as NSW Police, Health and Family and Community Services as well as strong community involvement through school reference groups and local Aboriginal Education Consultative Groups.
"Running parallel to this Model is an initiative to engage local and regional Aboriginal community members who have ambitions to become youth workers or counsellors in training programs that will build their skills," Mr Piccoli said.