Doctors express satisfaction with South African leader's condition, a statement on the presidency's website says.
South African President Jacob Zuma has been admitted to hospital for tests, the presidency said in a statement on its website.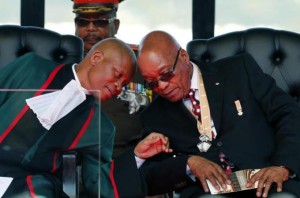 "Doctors are satisfied with his condition," the statement said on Saturday.

The announcement came two weeks after Zuma was inaugurated for a second five-year term following the election victory last month of the ruling African National Congress party.

"Yesterday President Zuma was advised to rest following a demanding election and transition program to the new administration," his office said in a statement.

No further details were given.

In a separate statement on Friday, Zuma's office said the president would take a few days off from public engagements while continuing to perform official duties from home.

Zuma, a former anti-apartheid activist, was inaugurated May 24 in a ceremony marked by dance, prayer, a 21-gun salute and air force fly-overs. 

In a speech, he said South Africa was a better place to live in than it was in 1994 but that poverty, unemployment and other problems persist.