Many young activists are saying they are discouraged by politics ahead of legislative and executive elections.
Tunis, Tunisia – With Tunisia's legislative and presidential elections approaching on October 26 and November 23, respectively, many of the country's youth, the driving force behind of the country's 2011 revolution, remain disheartened by national politics.
While some developed a troubled relation with national politics in the years that followed the revolution, others say they are either too disappointed with or disconnected from the political process to be swayed to participate in the forthcoming elections.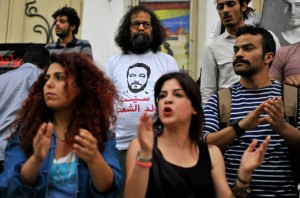 However, a growing network of youth activists has been working through last summer to fight this predominant apathy among Tunisian youth.
According to Tunisia's National Institute of Statistics, as of 2012, citizens between the ages of 20-29 constitute just under 20 percent of the overall population. While eligible voters could have voted without registering in 2011, everyone must register in order to vote in the 2014 elections. Registering Tunisians, therefore, is especially important this year.
"I would say that young people in civil society organisations are a primary reason why we received the [big] number of [voter] registrations from younger age groups," said Mohamed Madhkour, 35, who worked as the liaison between the Independent High Authority for Elections in Tunisia (ISIE) and civil society organisations.
More than 2,500 volunteers from 140 civil society groups worked with ISIE during the registration period, according to a statement issued earlier this month by the agency. Madhkour said that the majority of the volunteers were under the age of 30 and that their efforts were not in vain.
Of the 962,291 voters who registered for the first time this summer from June 23 to August 26, 40 percent were between the ages of 18 and 30, while 36 percent of new voters were aged 31-50 according to ISIE's registration statistics.
Madkhour said he was "satisfied" with the results of the registration drive, a view shared by several other activists. 
Rihab Blidi, 23, secretary-general of Sawty (My Voice), a non-profit organisation that aims to specifically engage youth with civic society and the democratic process in Tunisia, partnered with ISIE and other independent organisations to help convince youth to register. Blidi said she is proud of the work her organisation did this summer, particularly because of their creativity.
"It's hard to make youth participate for many reasons: They can be lazy! It's not cool in their groups, or they are preoccupied with their studies," she explained. "So we had to take registration papers to them, provide them with information, rather than wait for them to come to us. That's why we tried to host events they would like or go to them directly."
Blidi cited an event Sawty co-sponsored with iWatch, another civil society organisation, and facilitated with the help of ISIE in July. The organisations hosted a live performance by Jaafar El Guesmi, a Tunisian actor and entertainer especially popular among the youth. In an attempt to encourage more youth to register as voters, the show was open only for registered voters. Meanwhile, tables were set up outside to register anyone who wanted to attend for free.
According to Madhkour, who attended, around 400 people registered on that day alone.
"It wasn't a very big number, but it still registered a lot of people who wouldn't have done so otherwise, and everyone got to listen and watch a show that wasn't serious or depressing when talking about Tunisia," Bledi said.
Sawty and AIESEC-Tunisia, the national chapter of an international non-profit organisation that provides youth with leadership development opportunities, international internships, and volunteer experiences, also implemented a campaign in 11 governorates in which members went door-to-door to encourage citizens to register.
The founders of JID Tunisie (Independent Young Democrats of Tunisia), Youssef Blaiche and Zied Boussen, decided to focus their efforts this summer on the registered voters by reworking a project they developed for the 2011 elections. Ikhtiar (choice), is a questionnaire designed to help registered voters who are undecided or less politically active – "youth especially" – find a political party that matches their interests. Over the past several months, JID met with politicians from 10 political parties to come up with the questions and answers that reflect their platforms.
"Two main reasons, I think, youth don't go to vote are a lack of information and a lack of trust in political parties," said Blaiche, 24, president of JID's chapter in the city of Monastir. "Ikhtiar is designed to give them the information they need, in a simple, easy way, and help them see which party or parties they side with."
Al Bawsala (the Compass), a civil society organisation run by a group of young Tunisian activists (NCA), will be posting profiles of politicians online, including their voting records, to also help voters make their decisions. All of Al Bawsala's staff is under the age of 30.
"At first, it was hard for NCA members to take us seriously because of our age, but they soon realised that we were serious and meant business," 25-year-old Ons Ben Abdelkarim, secretary-general of Al Bawsala, said.
JID's Zied Boussen, 24, works at Mourakiboun(Watchmen), a local group that counts nearly 5,000 volunteers who will monitor the elections. Volunteers are being trained on the logistics for the two election days and the issues that may arise from voters not having privacy to the number of ballots in respect to the number of local registered voters.
"Young activists haven't been inspired by political parties and politicians, so joining NGOs and civil society organisations (CSOs) is a way we can make ourselves useful in Tunisia without having to deal with age-old bureaucracy, deceitful politicians, and just bad communication."
Many of the young activists in Tunis know each other: Boussen and Blaiche are childhood friends, Blidi is both a board member of Sawty and a member of JID, while Abdelkarim has also worked with Sawty.
The community of activists is small in number: an estimated 4 percent of young adults are actively involved in CSOs and smaller, community-based organisations, according to Tunisia's National Observatory of Youth. The groups' goals are also varied. But according to Madhkour, it is these differences that make the movement for youth voter registration more effective than official political parties.
"I'm not 100 percent confident we're going to have huge numbers come out and vote because there is less excitement and a lot of political fatigue, as many have explained," he said. "But if you look at what's been going on this summer and what these groups will be doing in the coming months, it's inspiring and gives me hope for Tunisia's future," Madhkour said.
"The revolution in Tunisia was successful because it fought for human dignity and that kind of concept cuts across all class lines, from Sidi Bouzid to Sidi Bou Said," said Benjamin Brower, associate professor of history at the University of Texas at Austin. But different groups of the revolutionaries had different immediate goals in mind.
"One reason youth may not be participating in the electoral process now is because the economy was the most important issue to them back in 2011, and since it's gotten worse, they don't feel like their activeness would make a difference now," he explained. "And among those youth, many of them probably don't have the freedom to spend time on work that isn't paid, like with civil society organisations."