Source: The West Australian, Sport
At stake is a first Test series win on foreign soil since April 2012, or the ignominy of suffering the first Test series loss in South Africa since the nation's readmission in 1994.
The third instalment of Dale Steyn and Mitchell Johnson, arguably the best two bowlers in the world, squaring off is intriguing but Watson could be the difference in the series decider.
The 32-year-old has the potential to win the game with bat and/or ball, feats that would finally expose just how big a loss Jacques Kallis has been for the hosts.
"He has the potential to be the best allrounder in the world," Michael Clarke said.
"Watto can open the bowling. Watto can bowl reverse-swing. He bowls somewhere between 130 and 140km/h.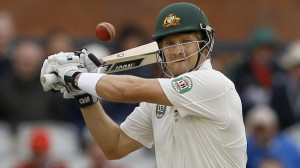 "To be able to be a top-order batter and do that … it just makes a huge difference."
Clarke was tight-lipped on Watson's chances of returning.
But coming off a miserable batting collapse of 9-62 and boasting a pace attack that was bowled into the ground in their last outing, the allrounder elixir would be hard to resist for national selectors.
Watson has been an enigma for much of his injury-marred career, but Clarke needs only ask good friend Shane Warne for advice on how to get the best out of him.
Warne, in Cape Town as a consultant at the request of Darren Lehmann, was captain-coach of Rajasthan for the inaugural season of the Indian Premier League in 2008.
Watson was named player of the series that season, guiding Rajasthan to the maiden IPL title and getting his international career back on track.
"The one thing I've found with Watto is just to back him," Warne said.
"Put some responsibility on his shoulders. I found that really worked for him.
"Watto has really turned the corner … you're going to see him be an exceptional Test player."
Aside from Watson's return and Clarke's lean trot, with the captain yet to pass 25 in his past 11 Test innings, David Warner has proven an unwanted talking point in the lead-up to the clash at Newlands.
Both camps are unhappy with Warner's ball-tampering inferences.
"I was disappointed and Davey knows that," Clarke said.
"That's been dealt with the by the ICC and it's also been dealt with by us in-house.
"I haven't spoken to anybody (from the Proteas), but when the time's right I'll certainly be speaking to Graeme (Smith)."