Up to 15 Islamic State fighters killed in air strikes near Mosul Dam, amid reports of "massacre" in Sinjar area.
US aircraft have launched air strikes near Iraq's largest dam, killing up to 15 fighters from the Islamic State group.
Several air strikes hit Iraq's north on Saturday, including in the besieged Sinjar Mountains, where fresh reports emerged of a "massacre" against residents belonging to the Yazidi religious minority.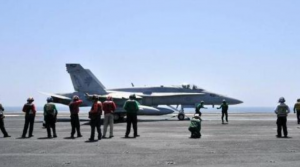 There were suggestions that the attack near the Mosul Dam was the beginning of a US military operation to help the Kurdish forces, Peshmerga, retake it from from the self-declared jihadists, who captured it earlier this month and thereby gained control over the water and electricity supply in the north of the country.
"We understand from our Peshmerga sources on the ground that they are also trying to push in. As the US bombs these positions, the Kurdish forces are trying to retake territory lost to the Islamic State," reporter, reporting from Irbil, the capital of Kurdish regional government said.
The Islamic State, an al-Qaeda splinter group, has in the recent months seized swaths of territory in Iraq and Syria and declared a caliphate.
Its swift push to the borders of Iraq's autonomous ethnic Kurdish region and towards Baghdad prompted President Barack Obama to authorize air strikes on the group's strongholds earlier this month. Since then, US military aircraft have carried out several bombings and air-dropped food and water to help tens of thousands of civilians fleeing the fighters' advance.
New 'massacre'
In one of the most dramatic chapters of the conflict, the fighters stormed the Sinjar area of northwestern Iraq earlier this month prompting tens of thousands of people, many of them Yazidis, to flee.
Kurdish fighters on the ground and US air strikes eventually helped most of those trapped to escape after more than 10 days under siege, but some remain in the mountains.
On Saturday reports emerged of the killing of about 80 of those who were left behind.
"We have information from multiple sources, in the region and through intelligence, that [on Friday] afternoon, a convoy of [Islamic State] armed men entered this village [Kocho]," senior Iraqi official Hoshyar Zebari told the AFP news agency.
"They took their revenge on its inhabitants, who happened to be mostly Yazidis who did not flee their homes," Zebari said, referring to a religious community regarded as heretics by jihadists.
"They committed a massacre against the people," he said. "Around 80 of them have been killed".
Mohsen Tawwal, a Yazidi fighter, told AFP by telephone that he saw a large number of bodies in the village.
"We made it into a part of Kocho village, where residents were under siege, but we were too late," he said."There were corpses everywhere. We only managed to get two people out alive. The rest had all been killed."
Tribune International could not independently verify these claims.