KIEV: Ukraine was set to unveil a new prime minister and cabinet on Tuesday as top Western envoys rushed to Kiev to try to find a lasting solution to the crisis rocking the economically-teetering country.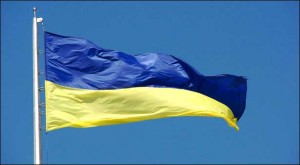 Ukraine has appealed to the West for $35 billion in aid to avoid default as the nation tilts away from Russia, following the weekend ousting of pro-Moscow president Viktor Yanukovych after days of carnage in Kiev left almost 100 dead.
Yanukovych has since been slapped with an arrest warrant for "mass murder", capping more than three months of relentless protests against his rule sparked by his November decision to spurn an historic pact with the European Union in favour of closer ties with Russia.
EU foreign policy chief Catherine Ashton arrived in Kiev on Monday as the Ukrainian capital slowly returned to normal, with shops and restaurants in the centre re-opening, and she was due to brief the press at 0930 GMT Tuesday.
She met with interim leader Oleksandr Turchynov, who has warned that Kiev will have no alternative but to default on $13 billion in foreign obligations due this year should the West fail to come to the aid of the economically-struggling country.
Adding to the diplomatic effort, Washington is sending Deputy Secretary of State William Burns to Kiev Tuesday, and British Foreign Secretary William Hague is due to visit Ukraine soon.
While Western powers have cautiously thrown their weight behind the overthrow of democratically-elected Yanukovych, Russia has reacted with outrage to the "mutiny" in a country with centuries-old roots to Moscow.
The United States has stopped short of endorsing Ukraine´s interim leader and called for a technocratic government to promote early elections.
Turchynov has vowed to draw up a "government of the people" and warned Russia that he expects the Kremlin to respect Ukraine´s pivot to the West.
On Tuesday, the electoral commission said the campaign for presidential polls set for May 25 had officially kicked off, though who exactly will stand for the top post remains to be seen.
Names commonly put forward include protest leader Arseniy Yatsenyuk, a pro-EU former foreign and economy minister; Yulia Tymoshenko, the freed opposition leader and hero of the 2004 Orange Revolution; Petro Poroshenko, a billionaire chocolate baron; and Vitali Klitschko a world heavyweight boxing champion-turned-politician.
The interim premier and cabinet set to be announced on Tuesday will have the tough tasks of keeping stability in Ukraine ahead of the polls.