President Obama outlines pullout plan that will leave almost 10,000 troops in Afghanistan after 2014.
US President Barack Obama has announced a pullout plan for Afghanistan that will leave 9,800 troops in the country after 2014, overriding previous plans of a complete withdrawal by the end of the year.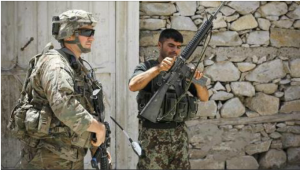 Obama announced the two-year plan on Tuesday saying the US would complete its military intervention by 2016. The announcement came after he reportedly briefed Afghan President Hamid Karzai by phone.
Anticipating criticism of his decision for a near-total US pullout at the end of 2016, Obama said Afghanistan's security forces have shown they are capable of defending their country.
"We have to recognise that Afghanistan will not be a perfect place and it is not America's responsibility to make it one," Obama said in the White House Rose Garden.
He credited American forces, which were first deployed by President George W Bush within a month of the September 11, 2001 attacks, with striking significant blows against al-Qaeda's leadership, eliminating Osama bin Laden and preventing Afghanistan from being used as a base for strikes against the US.
While Karzai has declined to sign a bilateral agreement, US officials said they were confident that either of the candidates seeking to replace him would give his approval.
Both candidates who are on the ballot in next month's runoff – former Foreign Minister Abdullah Abdullah and ex-Finance Minister Ashraf Ghani Ahmadzai – welcomed Obama's announcement, the Associated Press news agency reported.
By the end of 2016, the US presence would be cut to a normal embassy presence and will staff a security office in the capital, as has been done in Iraq, a senior government official told reporters earlier on Tuesday.
Obama has also discussed his plans with several European leaders, including German Chancellor Angela Merkel, British Prime Minister David Cameron and Italian Prime Minister Matteo Renzi.
At least 2,181 members of the US military have died during the nearly 13-year Afghan war and thousands more have been wounded.
The total NATO presence, including US troops, is expected to be around 12,000 at the start of next year.
US President Barack Obama has made his long-awaited decision on how many US troops will stay in Afghanistan after 2014. He has been insistent that at the beginning of 2015, the war in Afghanistan will officially be over.
It may be difficult to realise that distinction on the ground in Afghanistan with US troops still armed and conducting "counter-terrorism" missions, but nevertheless that is the lingo of the day.

It seems clear the president is following his military's advice with the number of troops. The Pentagon has made it clear previously that they requested 10,000 troops on the ground. They are getting what they asked for, but only for a limited time.

With this announcement, the president is reinvesting in his strategy, giving the military what it says it needs. Again this is only to a point, because he's given them a timeline as well. 

The president says by 2017 the US will only provide the normal numbers that are needed to secure an embassy… so in essence that is when the war will be over, officially and literally. 

He is already being criticised by Republicans on that front, but that's normal – they've disagreed with most of his Afghanistan decisions. 

We can't really know if the US' military role in Afghanistan is really over by 2017. But we do know that Obama's term as president will be over by then. If the intervention doesn't end, he can say that is not his fault. He had a plan.