President Bashar al-Assad set to win an overwhelming victory in poll called a charade by the opposition.
Election officials have started counting votes in a Syrian presidential election expected to deliver an overwhelming victory for President Bashar al-Assad but which his opponents have called a charade.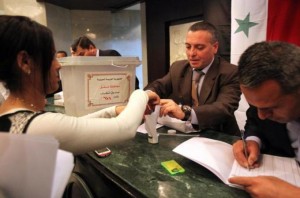 State-run media reported that voting closed at midnight on Tuesday and that officials began the process of checking the number of votes against lists of registered voters to ensure the numbers matched.
The poll was the first election in Syria for nearly 50 years, though Assad and his father Hafez have previously renewed their mandates in referendums.
Rebel fighters, the political opposition in exile, Western powers and Gulf Arabs say no credible vote can be held in a country where swathes of territory are outside state control and millions have been displaced by conflict.
State television said voting had been extended for five hours past the original deadline "because of the massive influx of voters".
Voting only took place in government-controlled territories, meaning those displaced by fighting or living in rebel-held areas were unable to take part.
The opposition dismissed the vote as a "farce" that would prolong the country's three-year conflict. The vote excluded regime opponents from running.
The US called the election a disgrace, saying Assad "has no more credibility today than he did yesterday."
Syrian television showed Assad casting his ballot at a school in the Damascus neighbourhood of al-Maliki. He was accompanied by his wife, Asma.
Assad faces two practically unknown competitors – Maher al-Hajjad and Hassan al-Nuri.
Nuri, who studied in the US, told the AFP news agency he expected to come second after Assad.
Both he and Hajjar only lightly criticised Assad's rule for fear of being linked to an opposition branded "terrorists" by the regime. The two men instead focused on corruption and economic policy.
The vote took place as the war continued, with the air force bombarding rebel areas in Aleppo and fierce fighting in Hama, Damascus, Idlib and Daraa.
Observers from countries allied to the regime – North Korea, Iran and Russia – supervised the election, while a security plan was reportedly put in place in Syrian cities to prevent possible attacks against voters and polling stations.