A GLOATING Premier Barry O'Farrell has said Victoria is "smarting" over Sydney's big-time sports and events schedule, which has generated a $1.3 billion tourism bonanza.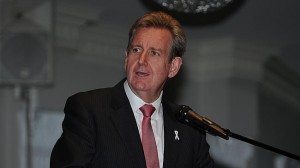 NSW tourism spending has grown 11.5 per cent, driven by blockbuster events such as this weekend's historic US baseball series.
"Sydney has its mojo back — we've regained our status as Australia's major events capital," Mr O'Farrell said.
"Victoria had a rails run for too long and we know they're smarting by our aggressive push to bring the big events to NSW."
His comments stirred up a hornet's nest among proud Melburnians like former premier Jeff Kennett and Ron Walker.
"I love Barry dearly but he's obviously been smoking something,'' Mr Kennet said.
Australian Grand Prix chairman Mr Walker said Sydney had nothing to compare with the 105,000 people who attended the motor race last weekend or the international appeal of the Australian Tennis Open.
"It's a long, long stretch to say you've overtaken Melbourne,'' he said.
I love Barry dearly but he's obviously been smoking something – Kennet
But more than 150 million sports fans in North America and Asia will tune into the SCG this weekend to watch the Los Angeles Dodgers and Arizona Diamondbacks open the US baseball season.
Destinations NSW estimates the event will generate an extra $13 million in tourism spending in Sydney, while promoter Jason Moore says the economic benefit is "three times that figure".
Mr Moore said more than 30 per cent of tickets had been purchased by interstate and international tourists.
Mr O'Farrell said the government has pulled 89 major events into NSW in the past three years, lifting tourism spending by 11.5 per cent and visitor nights by 7 per cent.
On top of major events such as the British Lions rugby tour and Manchester United soccer visit last year, NSW can look forward to the prestigious week-long Championships racing carnival next month and the arrival of Spanish superstar team Juventus FC in August.
"We won't be resting on our laurels and will keep building the best major events calendar in the country,'' Mr O'Farrell said.