EMBATTLED Senator Arthur Sinodinos would find it difficult to return to the ministry — even with Prime Minister Tony Abbott's desire to remain loyal to long-time colleagues — former Liberal leader John Hewson said yesterday.
Mr Sinodinos stood down as assistant treasurer in the Abbott government last month amid allegations aired at ICAC concerning his involvement with Australian Water Holdings on a $200,000 salary for working 100 hours a year.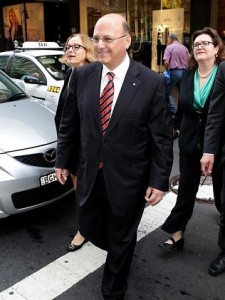 Dr Hewson yesterday said Mr Sinodinos had made it hard for himself to return by "not being able to recall anything" at the hearings. "Tony Abbott is pretty loyal," he said.
"I think he would want to have put him back but I think in the circumstances it has become very difficult to do that."
The Prime Minister, who has previously insisted Mr Sinodinos would return once his involvement in the matter ended, declined to comment.
Labor yesterday stopped short of linking the possibility of Mr Sinodinos' return to Barry O'Farrell's decision to step down as premier after giving false evidence to ICAC over a bottle of wine.
But Opposition Senate Leader Penny Wong said Mr Sinodinos still had many questions to answer.
"Senator Sinodinos is yet to offer a convincing explanation of how he held high office in Australian Water Holdings and the NSW Liberal Party but remained ignorant of the flow of company funds to the Liberal Party, which were then charged back to a public utility," her spokeswoman said.