Eight employees of Chinese newspaper and two PR firms accused of demanding money to run, or not to run, stories.
Police in Shanghai are investigating eight people, including employees of a business newspaper, on suspicion of extortion, China's official Xinhua news agency has said.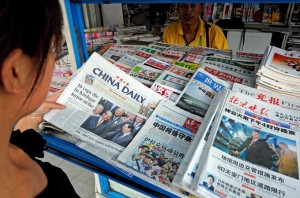 Officers have taken "criminal coercive measures against the eight suspects" in line with the law, Xinhua's website, Xinhuanet, reported on Thursday, citing the Shanghai Public Security Bureau.
The eight suspects include people working at the 21st Century Business Herald newspaper and two public relations firms, the report said.
The newspaper confirmed that "several" employees were taken away by police for investigation, according to a statement, but gave no details.
Xinhua said the editor-in-chief of the paper's website, surnamed Liu, its deputy editor, surnamed Zhou, and other editorial and operations staff had been arrested.
It said the employees had colluded with two financial public relations firms in Shanghai and the southern city of Shenzhen, to target firms that were about to be listed or restructured to "carry out illegal activities".
The suspects also allegedly forced companies to place advertisements or sign co-operation agreements for high fees, it said.
The practice of paying the media to run, or not to run, stories is believed to be widespread in China, and authorities announced a nationwide campaign against media extortion earlier this year.
If companies did not co-operate, the newspaper would "release negative reports maliciously attacking them" and "blackmail" them into signing advertising or co-operation deals, Xinhua said.
Commercial pressures
Although all Chinese media are controlled by arms of the state, many news publications such as the 21st Century Business Herald are subject to commercial pressures, the Reuters news agency reported.
Experts have long pointed to corruption within the ranks of Chinese media, arguing that blackmail is widespread and journalists are susceptible to bribery.
China has cracked down on official corruption and extravagance since President Xi Jinping's appointment last year.
Public flaunting of personal, and often illicit, wealth had been common, provoking wide criticism of the ruling Communist Party.
The news comes nearly a month after prosecutors detained a top Chinese news anchor for China Central Television (CCTV)
In June, China's top prosecutor said it was investigating a senior executive with CCTV on suspicion of bribery.