KARACHI: Rumours began circling on Saturday of Pakistan's former speedster and Rawalpindi Express Shoaib Akhtar having decided to tie the knot.
Television reports said earlier today that Akhtar had decided to marry the daughter of Mushtaq Khan, a businessman from Haripur.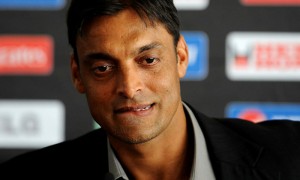 According to reports, Akhtar's family had met Khan while performing Hajj last year and had asked the businessman's wife for help in finding a suitable match for Akhtar.
Reports further stated that both families have been visiting each other since then and decided that Khan's daughter would be married to Akhtar.
Furthermore, a report published in a local newspaper had stated that Akhtar was due to visit his hometown of Rawalpindi on June 12 and was likely to be married by the third week of this month.
The report quoted family sources as saying that the girl has "little interest in cricket".
It added that celebrations in connection with the wedding have been scheduled for June 19, 20 and 22.
However, there seems to be no veracity in the news and a Twitter account believed to be maintained by Akhtar himself denied it.