Rescuers laid out bodies in the streets on Monday (August 4) after at least 398 people were killed by an earthquake in China, leaving the idyllic mountain landscape littered with scenes of devastation and sparking a huge rescue effort.
LONGTOUSHAN, China: Rescuers laid out bodies in the streets on Monday (August 4) after at least 398 people were killed by an earthquake in China, leaving the idyllic mountain landscape littered with scenes of devastation and sparking a huge rescue effort.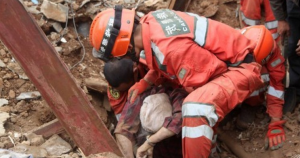 More than 18,000 rescuers were deployed in the disaster zone in the southwestern province of Yunnan, where nearly 80,000 houses were destroyed and 124,000 more seriously damaged, the official news agency Xinhua said.
In Longtoushan, at the epicentre of the quake, a volunteer gently placed the body of a one-year-old infant next to an eight-year-old, near other small corpses. Each one was wrapped in dirty blankets and old clothes tied with string to anything resembling a stretcher – a ladder, two branches, or planks of wood – as rain fell from darkened skies.
"There are about 70 to 80 bodies here," one women shouted helplessly. "We cannot move them because the roads are all blocked," said a man, as more bodies were recovered from the rubble and placed on the dirty pathway, an AFP reporter saw.
State broadcaster China Central Television showed images of a mountainside dotted with small homes reduced to shattered shells. Nearby, vast swathes of hillside had plunged into a river, blocking its flow and causing the water to rise 30 metres above its usual level, it said.
The US Geological Survey (USGS) reported Sunday's quake at a magnitude of 6.1 and said it struck at a relatively shallow depth of 10 kilometres (six miles). The Yunnan province civil affairs office said 398 people had been confirmed killed and 1,801 injured.
A total of 18,000 emergency personnel, including 11,000 police and firefighters, and 7,000 soldiers and armed police had been mobilised, Xinhua said. Equipment brought to the area included life detection instruments and excavating tools.
"They are also battling the continual downpour that has brought down the temperature in the remote area and made shortages of food and medicine even more pernicious," Xinhua added.
In Ludian county, which includes Longtoushan, Xinhua said its reporters "saw drenched survivors sit along the muddy roads waiting for food and medication. Some half-naked survivors were quivering in the rain".
Chinese Premier Li Keqiang arrived in Yunnan on Monday and because of the road conditions had to walk for "over three miles" to reach the worst-hit village, Xinhua said on a verified Twitter account.
LIKE A "BATTLEFIELD"
Residents fled in terror as the earthquake hit, television images showed, and in the immediate aftermath soldiers stretchered the injured away from the scene. A Ludian resident described the scene as resembling a "battlefield after bombardment", telling Xinhua: "I have never felt (such) strong tremors before. What I can see are all ruins."
In Zhaotong, Mo Chahong, who was caring for her three-year-old daughter at the time, told AFP: "When it happened the house was shaking violently and the lights all went out, I was terrified."
In the immediate aftermath, rescuers rushed victims to local hospitals and on Monday were still picking through the rubble of destroyed homes in a desperate search for survivors.
Volunteer Ma Hao, a college student who was helping to carry the injured out of the collapsed buildings in Longtoushan, described a race to pull the living from the rubble that left little time for the dead. "We had no time to take care of the bodies. We need to help those alive first," he told Xinhua.
Volunteers from across China were heading to Yunnan to assist. At the airport in the provincial capital Kunming, one group were discussing how to reach the worst-hit areas. "It is our duty to help," one told AFP.
Users of China's Twitter-like Sina Weibo expressed sympathy for the victims, posting images of candles and crying faces. "May the dead rest in peace and the living be strong," read one typical comment.
Ludian has a population of nearly 266,000 and sits more than 300 kilometres north of Kunming. Electricity and telecommunications have been cut across the area and 230,000 residents have been evacuated, Xinhua reported.
A spokesman for UN chief Ban Ki-moon said the secretary-general was "saddened by the loss of life", while the White House National Security Council also offered its condolences, and said the United States "stands ready to assist".
The China Earthquake Networks Center put the magnitude at 6.5. Southwest China lies where the Eurasian and Indian plates meet and is prone to earthquakes.
In 1974, a 6.8-magnitude quake in the same area killed more than 1,500 people. In May 2008 a giant quake measured at 8.0 magnitude by Chinese authorities and 7.9 by USGS rocked Sichuan, which neighbors Yunnan, killing more than 80,000 people and flattening swathes of the province.