Trip comes at a time of stalled peace talks and an increase in anti-Christian 'price tag' attacks by Jewish extremists.
Beit Jala, West Bank – Pope Francis' trip to the Holy Land this week is being met with high expectations by the faithful and politicians alike. Arriving in Jordan on May 24, before he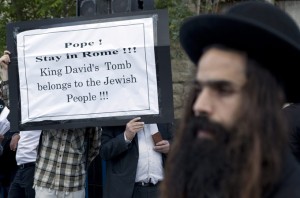 ading to the West Bank and Israel in the two days that follow, the pope will meet with Christian families, as well as political and religious leaders from all three monotheistic faiths.
"The pope [is expected to] tell us … not to be afraid," said Michel Sabbah, the former Latin Patriarch of Jerusalem. "Whatever our situation is: with our small numbers, persecution, we will remain strong, and that's the message I hope that the pope will give us. [We also hope] he will say a word of justice and peace addressing the political situation."
The trip comes at a time when Palestinian-Israeli talks are at a standstill and a politically-charged environment is prevalent in the Holy Land. There's also a sense of bitterness as anti-Christian "price tag" attacks perpetrated by Jewish extremists escalate.
In the past, these "price-tag" attacks were made in an apparent retribution for the removal of West Bank outposts that are deemed illegal by Israeli authorities. These days, the attacks seem to be perpetrated irrespective of Israeli actions vis-a-vis settlements.
Officially, the pope is here to to meet the Ecumenical Patriarch of Constantinople Bartholomew I on the 50th anniversary of the Catholic-Orthodox Joint Declaration. It was during this 1964 historic visit to Jerusalem by their predecessors that an agreement was made to end the two churches' schism.
"It will be a renewal of unity for Christians here and all over the world," Sabbah said. The two religious leaders will hold a joint prayer service at the Church of the Holy Sepulchre, where Jesus is believed to have been crucified and buried.
But Christians, whose numbers are dwindling here, hope the pope will deliver a message of support as they face increasing challenges. In February, an Israeli law designating Palestinian Christians as a separate minority group was passed, in a move criticised by some religious leaders as an attempt to separate Palestinians along religious lines. This was followed by an Israeli push to recruit them into the country's army.
The issue is highly contentious because, Sabbah says, it pits Palestinians against their "brothers". "We, as religious leaders, told Palestinian Christians inside Israel, 'If you go into the Israeli army, that means that you are going into an army where your main function will be either to kill a Palestinian, or to keep humiliating him in his daily life.'"
Last week, vandals daubed hate graffiti on Vatican-owned property in East Jerusalem. "Death to Arabs and Christians and all those who hate Israel" was scrawled in Hebrew on church property in the same week that more than 200 Orthodox Jews protested against the pope's planned visit to the place where Jesus is believed to have had his last supper.
The protest has cast into the limelight an ongoing dispute between the Holy See and Israeli authorities over the complex that houses the Cenacle, but is also revered by Jews as the Tomb of David and by Muslims as a 16th century mosque.
The Vatican has called on Israeli authorities, who are fearful of a rise of similar attacks in the lead-up to the pope's visit, to take action. "In the last year, [price tag attacks] have doubled," said Yousef Daher of the Jerusalem Inter-Church Centre. "In 2013, there were 22 incidents against Christian property while in 2011 it was around 11. We can see a trend of increasing price-tag attacks on Christians and Palestinians inside Israel and in the West Bank."
Despite these fears, the pontiff is not expected to use his famous popemobile or any other bulletproof car. Instead, he will riding an open-topped vehicle, so he can get as close to people as possible, the Vatican said. Throughout this trip, the pope will be accompanied by a rabbi and an Islamic leader, another symbol of the inter-faith dialogue Francis has been pushing for since his inauguration in 2013.
Many Christians are already expressing frustration with the limited number of tickets being made available to their communities for the mass at Bethlehem's Manger Square. Some are also unhappy that the pontiff's trip will exclude a visit to Nazareth, the town where Jesus is believed to have grown up. Meanwhile, there are worries that stringent restrictions, which Israeli authorities say are for security reasons, will hinder Christians from greeting their spiritual leader.
"What we are expecting [is] Jerusalemites will not enjoy their holy guest like everybody enjoys the pope's audience every Wednesday in Rome, or when he visits Brazil or Lebanon," Daher said. "This has been the case with every single visit by a pope. We had a very hard time with Pope Benedict's visit, and it seems we will not be in close touch with our holy visitor [this time around either]."
In Jordan for only half a day, the pope will visit the site of Jesus' baptism, and he will meet with Syrian and Iraqi refugees, as well as people with disabilities. He will then cross the River Jordan aboard a helicopter and land in Bethlehem, where he will lead a holy mass at Manger Square and have lunch with several Christian families from the Gaza Strip, the West Bank and Israel's Galilee.
The final leg of his Palestinian tour will include a private tour of the Church of the Nativity, where Jesus is believed to have been born, and a meeting with Palestinian children at the Dheisheh refugee camp.
From Bethlehem, the pontiff is expected to travel to Jerusalem via Tel Aviv, a convoluted itinerary – considering Bethlehem is a ten-minute car ride away – that takes into account that a final status solution has not been reached between Israel and the Palestinians regarding the Holy City.
Once in Jerusalem, he will visit the Church of the Holy Sepulchre, meet with the Grand Mufti of Jerusalem – the city's top Muslim cleric – at the Noble Sanctuary, and leave a prayer message at one of the Western Wall's crevices. He will also meet with the Greek Orthodox Patriarch, chief rabbis, the Israeli President Shimon Peres and Prime Minister Benjamin Netanyahu. The pope will also lay wreaths at Yad Vashem, the Holocaust memorial museum, and Mount Herzl.