Police break up pro-democracy rally that organizers say more than 500,000 attended.
More than 500 protesters at a Hong Kong sit-in have been arrested after police moved in to break up the rally which organizers said saw a turnout of more than half a million.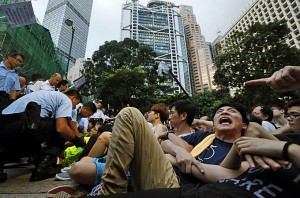 The protesters had staged a sit-in on a street in the city's Central district and vowed to stay until 8.00am (0000 GMT).
But just after 3.00am on Wednesday police began to move in and load them onto coaches. 
Those who were removed were taken to a police college in the south of Hong Kong, according to the South China Morning Post.
The confrontation followed a largely peaceful rally on Tuesday, which organizers said was a record turnout and the largest since the city was handed back to China in 1997.
Waving colonial-era flags and chanting anti-Beijing slogans, protesters demanded democratic reforms, reflecting surging discontent over Beijing's insistence that it vet candidates before a vote in 2017 for the semi-autonomous city's next leader.
The rally came after nearly 800,000 people took part in an informal referendum calling for voters to be allowed a say in the nomination of candidates.
'Illegal' vote
Beijing branded the vote "illegal and invalid".
Despite soaring humidity and rainstorms, swarms of protesters poured onto clogged streets through the afternoon and evening, marching from Victoria Park to the Central business district.
They carried banners emblazoned with slogans, including "We want real democracy" and "We stand united against China".
"There is a strong desire for genuine democracy that offers choice and competition without (political) vetting," Anson Chan, a former number two official in Hong Kong who is now a pro-democracy activist, told reporters on Tuesday.
The chairman of the Hong Kong post office union, marching in the muggy heat, said the city's government was kowtowing to Beijing.
'For our children'
"This march is not for us, it's for our children. Without universal suffrage there's no way to monitor the government," said Ip Kam-fu.
The city's Chief Executive Leung Chun-ying sought to strike a conciliatory note, saying his government would do its utmost to forge an agreement on implementing universal suffrage.
He offered no details on the 2017 election when he spoke at a ceremony earlier on Tuesday marking the 17th anniversary of the city's handover.
The poll, which ended on Sunday, gave three options for the election of the city's next leader – all of which included the public having some influence on the selection of candidates.
China has promised to let all Hong Kong residents vote for their next leader in 2017 – currently a 1,200-strong pro-Beijing committee chooses the city's chief executive.
But it says candidates must be approved by a nomination committee, which democracy advocates fear will mean only pro-Beijing figures are allowed to stand.