FIFA's Michel Platini rejects newspaper allegations and insists his meeting with Mohamed Bin Hammam was innocent.
FIFA vice president Michel Platini has criticised a British newspaper for linking him to corruption claims about Qatar's 2022 World Cup bid.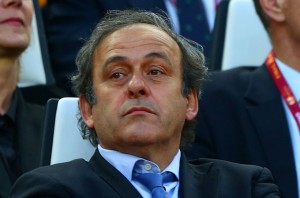 The Daily Telegraph reported that Platini secretly met with his FIFA board colleague Mohamed bin Hammam of Qatar shortly before the World Cup vote in December 2010.
Platini writes to the Telegraph editor describing 'unfounded rumors which aim at tarnishing my image'.
"I find it astonishing that conversations with a fellow member of the FIFA Executive Committee could suddenly be transformed into a matter of state," Platini said in the letter released by UEFA.
The UEFA president said he 'obviously' met Bin Hammam, a longtime FIFA colleague and fellow football confederation leader, 'on many occasions in 2010'.
"During those conversations with Mr. Bin Hammam, the topic of the discussions was my potential candidature for the FIFA presidency," Platini wrote.
"Mr. Bin Hammam was indeed trying to convince me to become a candidate for the 2011 FIFA presidential elections."
After Qatar was chosen by FIFA's board as World Cup host, Bin Hammam tried to unseat Sepp Blatter as head of football's governing body.
Days before polling in June 2011 Bin Hammam withdrew as FIFA prepared to suspend him for allegedly bribing Caribbean voters and Blatter was re-elected.
Forensic audit of accounts
Bin Hammam survived that scandal at the Court of Arbitration for Sport, then resigned from football as FIFA investigated a forensic audit of Asian Football Confederation accounts.
Qatar's World Cup bidding campaign, and Bin Hammam's role, is under renewed scrutiny as FIFA ethics prosecutor Michael Garcia concludes his investigation of the 2018 and 2022 hosting contests.
Platini voted for both winners, Russia and Qatar, though reportedly under pressure from France's then state president, Nicloas Sarkozy, to back the gas-rich emirate.
"I wish to reiterate that I am the only member of the FIFA Executive Committee who publicly stated for which bid I have voted – proof of my full transparency," Platini wrote, "and that no one ever dictates terms or conditions to me."