Israel debates force-feeding Palestinian prisoners protesting their incarceration without charge or trial.
Dura, Occupied West Bank – Just outside the Tabeish family home, people began to gather at sunset. Some carried flags, but most held posters of the town's native son, Ayman. A child carried a placard depicting a young man in chains; "Ayman is dying" read another sign, held by an elderly man.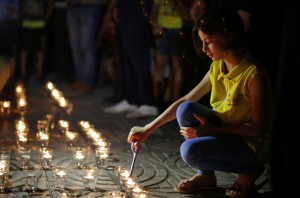 In what has almost become a weekly event, neighbours and complete strangers have come to support the Tbeish family; their 34-year-old son has gone on hunger strike to protest his incarceration without charge or trial in Israeli prison. The process, known as administrative detention, allows Israel to hold Palestinians it deems a "security risk" indefinitely.
And as Tbeish's fast entered its fourth month – he has been refusing food for 99 days -, his family feared the worst: "The Red Cross called us the other day to tell us Ayman is facing some extremely serious health issues," said Tbeish's brother, Mohammad.
Another 120 Palestinian administrative prisoners are also on hunger strike. The campaign began on April 24 with 100 prisoners. Since then, others have joined the campaign, while thousands have held one-day fasts in solidarity. This week, the total number of striking detainees reached 1,500.
Sitting in the shade of a grape vine, Tbeish's mother wept quietly. Her son was arrested in May 2013, but started his fast ten months later. "I think about him every waking hour," said the 55-year-old mother of eight. "I pray for him every time I drink or eat."
This is Tbeish's fifth time in an Israeli prison, and his fourth on hunger strike, since 2001. In all, he has been incarcerated for 12 years, five of them under administrative detention. His years in and out of prison have left him a perpetual junior at the Polytechnic University of Hebron. His family says he's been incarcerated for his political activism on campus.
Last week, 70 fasting prisoners were hospitalised, according to an Israel Prison Authority (IPS) spokeswoman, who called their condition "stable". Sivan Weizman said the transfers to 12 hospitals around the country were made to monitor the prisoners' medical situation, and not because of any marked deterioration in their health.
But she said the IPS did have concerns. "When someone is on strike for a long time, even if they go back to eating, it will impact his health," Weizman told Al Jazeera. "We are responsible for their lives. If their condition deteriorates as a result of their own choice, then we are ready to deal with anything that might happen."
Palestinian advocacy groups said some of the hunger strikers are in real danger. "We are fearful that some will pass away," said Issa Qaraqe, the outgoing minister for prisoners affairs.
Tbeish – who is being held at Assaf HaRofeh Medical Centre, just outside of Tel Aviv – recently refused to take supplements with his water. "He's lost a lot of weight," said Hanan al-Khatib, a Palestinian prisoners ministry lawyer. "He is suffering from extreme fatigue, aches in his joints, and stomach pains. He also has difficulty breathing."
Palestinian officials have accused the Israeli authorities of reneging on a previous deal to limit administrative detention to exceptional circumstances. "Despite an agreement issued on May 14, 2012, Israel is still systematically using this severe punitive measure," said Palestine Liberation Organization (PLO) member Hanan Ashrawi.
Weizman said the IPS was in no condition to negotiate on matters other than prison conditions. "Their strike is on the issue of administrative detention and we are not part of discussions because it's not our role," she said. "We don't have a say in terms of their legal situation."
Israeli and Palestinian prisoners groups have appealed separately to Egypt's president-elect Abdel-Fattah el-Sisi and to European leaders, while family members have written to Pope Francis, to push the prisoners' strike into the spotlight.
Throughout the West Bank, tents have popped up where people can gather in solidarity, and numerous commercial strikes and protests have erupted. Groups of Palestinian activists have sealed off entrances to the Ramallah offices of the International Red Cross and the United Nations, saying the organisations had done little to shed light on the prisoners' plight. A cyber campaign in Arabic and English was also launched, using the hashtag #Water_and_Salt.
Hunger strikes have been a challenge for the Israeli authorities in recent years because of the large number of prisoners taking part, and their deteriorating health. In 2012, a large-scale hunger strike saw Samer Issawi, an East Jerusalemite, go on an eight-month fast. Fears for his life eventually led to his release.
In recent weeks, Israel has considered legislation that would allow hunger strikers like Tbeish to be force-fed. The Ministerial Committee for Legislation gave preliminary approval to a bill which, if it passes two more readings in parliament, would permit medical treatment against the prisoner's will.
However, Israel said this would be subject to certain restrictions, namely that permission – not obligation – would be given by a local district court president or vice president, and not a prison service official. Inmates will also have the right to legal representation throughout this process. The law is not retroactive, meaning those currently on hunger strike will not be subject to its rules.
On Sunday, Israel's prime minister instructed his security cabinet to speed up the Knesset voting process, despite opposition by the Israel Medical Association (IMA) and the National Bioethics Council. According to Israeli dailyHa'aretz, the prime minister said he would find doctors willing to carry out to this practice, and "noted that guards customarily force-feed prisoners even in the Guantanamo Bay detention facility in Cuba".
In a letter to the country's prime minister, health and justice ministers, and attorney general, the heads of the IMA and ethics council said force-feeding is "ethically and professionally wrong".
Similarly, Israel-based Physicians for Human Rights and rights group Adalah, sent a letter to the attorney general back in February urging him to withdraw his support for a bill that "legalizes practices that constitute torture".
"We told him that force-feeding contradicts medical ethics and international legal standards," said Nadeem Shehadeh, an attorney with Adalah's Civil and Political Rights Unit. Should the bill become law, The organisation has the option to turn to the Supreme Court.