Protest in Sydney CBD in support of Musharraf
Sydney (Tribune International Report); Many Pakistanis gathered in Sydney CBD near Town Hall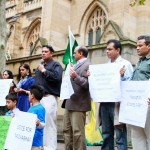 today protesting justice for Musharraf. Men, women and children held placards displaying 'Justice For Musharraf', 'Musharraf is not a traitor but a loyalist', 'Shame on Nawaz Sharif defaming Pakistan Army', 'International Community must put pressure on the Pakistani government'. The protestors shouted 'We want Musharraf', 'Justice for Musharraf', 'Shame on Pak Govt dealing disgracefully with Musharraf' and so on.
The protest started at 10am, it was intermittent rain today in Sydney even then the enthusiasm of the protesters and fervor of the organizers was great who demonstrated their full solidarity and commitment for former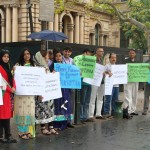 President and Army Chief retired General Pervez Musharraf.
Ms Sarwat Hassan, a prominent local journalist ran the protest's proceeding, in her introduction she said that if overseas Pakistanis are supporting the former military dictator, General Pervez Musharraf, today, it doesn't mean that people wants military rule in Pakistan, the fact of the matter is that Pakistan gained so much stability and brighter image internationally. She said, since Musharraf left power, in the last six years or so, the so-called political leaderships brought the country to disaster, the economy is down, currency value in international market has no respect, a common person in Pakistan is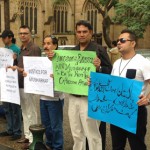 fighting just to live peacefully and respectfully, no power, no gas, no drinking water and no safety of lives, and these rulers are just after Musharraf with their personal revenge and vendetta.
A prominent community member and representative of Pakistani Hazara Community, Mr. Shams ul Abbas, said that the Taliban, religious extremists and terrorists, killed thousands of innocent people in Quetta, Peshawar, Karachi and other parts of Pakistan and the present government is trying to bring these terrorists on table to negotiate with them, on the other hand, this government is trying their level best to charge Musharraf in high treason through judiciary, is this not judicial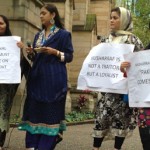 murder. Mr. Abbas said to look at the Pakistani economy today, law and order situation in entire Pakistan, who is safe in Pakistan? Were the conditions of Pakistan in Musharraf's government same like today? Certainly not. Mr. Abbas said that the people of Pakistan want peace in Pakistan and safety of the lives of everyone indiscriminately.  He said people understand that Pervez Musharraf was the one and he is the one that can rescue Pakistan from existing appalling situation and put them back on the right track.
Mr. Rehan Shakeel, an active community member and speaker said that Pakistan needs a strong leader today who can unite Pakistanis and bring back the lost image of Pakistan internationally; the people of Pakistan cannot see any of the existing politicians who can rescue Pakistan from all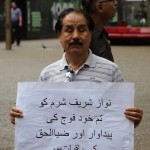 sorts of critical issues internally and externally…. Pervez Musharraf is the one who proved in this governance that he has the capability and courage to lead the nation with dignity and commitment. Mr. Shakeel said, the present government has indicted high treason charges on Pervez Musharraf but the fact is that the leaders of this government time and again violated the constitution of Pakistan in the past.
Syed Atiq ul Hassan, senior journalist, editor Tribune International, and Maktoob-e-Australia, Akhbar-e-Jehan and an activist, in his speech, thanked the audience who attended the protest despite of rain. Mr. Hassan said that all the cases against Pervez Musharraf are based on revenge and personal vendetta of Nawaz Sharif & Co and former Chief Justice Iftekhar Choudhery.    Mr. Hassan said that Nawaz Sharif who himself is the production of the Army being the leftover of the former dictator Zia ul Haque basically wants to defame Pakistan Army and ISI through victimising the former President of Pakistan. Nawaz's government has put the country on stake. Mr. Hassan said, a man who has served the Pakistan Army for 45 years with dignity and pride, 9 nine years as Chief of Army and 7 years as the President of Pakistan and when he resigned he was given a farewell with salutes and honours', is now being charged as a traitor, this is a shameful and disgraceful act of the present rulers of Pakistan.  He said that Musharraf's treason trial is a Kangaroo Trial as it is running by a tribunal constituted by biased judges who are known to be incompetent and biased. Mr. Hassan said, the world must know that the trial of Musharraf under Article 6 of Pakistani constitution is an unconstitutional act as under the same constitution of Pakistan (Article 2DD), the high treason charges of an army person can only be conducted under the Pakistan Army Act of 1952 and 1977. Mr. Hassan said that, this is no secret anymore that the case against Musharraf has links with anti-Pakistani foreign elements because Musharraf in his rule did not make them succeed on their anti-Pakistan manifestos, this government failed to control those elements. Mr. Hassan said that the international community must know that the charges against Musharraf is purely revenge taken by the Prime Minister and his team through former Chief Justice Choudhry Iftekhar to please those who hate Musharraf for Lal Masjid episode, 9/11 (2001) support to the United States and so on. Mr. Hassan said, Musharraf stood-up with international community in War against Terrorism, so this is the time now the international community must support him and get him free from prejudiced rulers of Pakistan. Mr. Hassan said that he doesn't support military rule in Pakistan, however, history shows that the political leaders and civilian rulers in Pakistan have shown no competency to run the country instead whenever they come in power they drag the country backwards. Mr. Hassan said, Pervez Musharraf believes on democratic rule in Pakistan, he wanted to participate in the last general elections with his APML but the rulers and biased judiciary blocked him by rejecting his nomination papers. Is this a democracy, these rulers don't believe in basic human rights instead their tyrannical rule.
Mr. Hassan also appealed to the Australian government to put pressure on Pakistani government to drop all the fake charges against him and treat him like a respectable citizen and a free man.
The protest was organised by the members of the civil society of Pakistani community in Sydney and Tribune International (Australia). There are representing groups of PPP, PTI, PML (N) and MQM exists in Australia who actively represents their political parties and leaders in Australia. The no participation from the representatives of PPP, PML (N) and PTI groups in Sydney was obvious as their parties are not supporting Musharraf but no participation of MQM was a surprised factor amongst the protestors. It was expected that MQM Australia Unit which is actively representing MQM in Australia would take part in the protest but no one from MQM appeared in the demonstration.