Sydney (News Report from CG Office, March 1, 2014) Arsalan Umar Akbar a young Pakistani student, who has been studying in Australia is suffering due to chronic back pain and advised to bed rest by the doctors.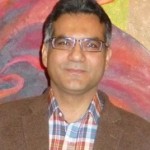 Umair was initially admitted in hospital subsequently sought transfer to Australian Vocational Language Centre (AVLC), Parramatta. Working hard in a store he has developed this back problem.
Mr. Abdul Aziz Uqaili, Consul General of Pakistan in Sydney, contacted Arsalan Umer and sent an official of the Pakistan Consulate to his home in Auburn to inquire about his health and to ascertain the assistance he needs. The Consul General contacted his  insurance company and negotiated with them to extend maximum health cover to Arsalan.
The Consul General has taken personal interest in the matter and contacted Arsalan's father and family members in Pakistan and provided them assurance of support whatever possible. Consult General assured Arsalan's father that his family should not feel alone, as the whole Pakistani community in Australia was here to help their beloved Arsalan.