Melbourne (Press News); Pakistan Shaheens is the first-ever footy team that will represent Pakistan in the Australian Football League International Cup 2014. While, our ultimate goal the international cup is still a while away, the Unity cup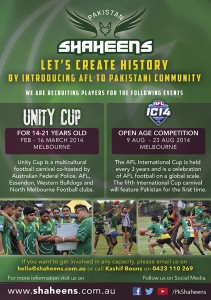 is just around the corner. The Unity Cup is an initiative of the Australian Federal Police (AFP), AFL Multicultural Program and the Essendon football club and was first played in 2008. Over the years Unity cup has also invited teams from interstate, however Victoria remains the home of the Unity Cup. After 7 years the Unity Cup continues to foster a mutual understanding and respect, highlighting positive ways Police and CALD communities work together. In 2014, Pakistan Shaheens will create history by being first Pakistani team to play in the competition.
This event is for boys aged 14-21 years old, while prior AFL experience is desired it's not essential and the boys will receive a number of benefits in terms of AFL experiences in addition to the honour of representing their country. It's a six weeks long program with only two hours commitment every Sunday from 9th February to 16th March. Registrations close 9th February.
Any players older than the Unity cup criteria can always join us in our international cup campaign. Further details can be found on our website www.shaheens.com.au,  Facebook Page https://www.facebook.com/Pkshaheens. Alternatively you can contact us on 0423110269.