First ever direct meeting, after preparatory meetings last month with intermediaries, held in "conducive environment".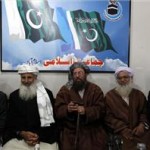 Face-to-face talks between the Pakistani government and the Tehreek-e-Taliban Pakistan [TTP] have begun in an attempt to halt years of violent attacks across the country.
Wednesday's meeting, which was held in North Waziristan, was the first direct contact between representatives from the current government and representatives from the armed group.
Maulana Samiul Haq, speaking to the media, said the two sides talked for more than seven hours and that there would be another meeting in the coming days.
Haq, a religious scholar and politician who is from the Taliban committee, also said that a ceasefire would continue for as long as the peace talks did.
In a statement issued after the meeting, TTP spokesman Shahidullah Shahid said that the day-long talks were held in a "conducive environment" and that both sides showed confidence in the process.
He said that the two delegations had agreed to extend a ceasefire, which started at the beginning of March, and that there was a consensus on the exchange of non-combatants held by either side.
Preliminary meetings, in which intermediaries took part, suffered from a series of setbacks.
In February, a TTP faction claimed it had executed 23 soldiers held hostage since June 2010. That same month, Pakistani fighter planes bombed a Taliban hideout in a tribal area on the Afghan border.