Official figures show more than 1,000 people, mostly civilians, were killed and nearly 1,400 others wounded in violent attacks across Iraq last month.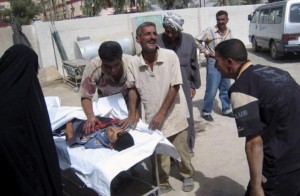 According to the latest figures released by the Iraqi government on Thursday, at least 1,009 people lost their lives and 1,375 were injured in the terrorist attacks targeting different parts of the country in April.
Some 881 civilians, 52 police officers and 76 army soldiers were among those killed last month, the figures showed, making April one of the bloodiest months in Iraq since 2008.
In a different report, the United Nations Assistant Mission to Iraq (UNAMI) put the April death toll at 750, saying 1,541 people were also injured in the violent assaults across the Arab state.
However, the UNAMI figures did not include the deaths in Iraq's western Anbar Province, where government forces have been involved in heavy clashes with al-Qaeda-affiliated militants since last December.
Estimates of the number of casualties in Iraq vary enormously in the chaotic aftermath of shootings and bombings.
On Thursday, Nickolay Mladenov, the special representative of UN Secretary-General Ban Ki-moon for Iraq, called on Baghdad to adopt a "holistic approach" to deal with the violence in the country.
"I once again stress the need for unity and a holistic approach to dealing with the terrorist threat in Iraq," said the UN official, adding, "Only through a combination of effective security operations, political engagement and socially inclusive policies can social peace be promoted."
The latest figures were released a day after Iraqis voted in the first parliamentary elections since US forces pulled out of the country in 2011.
In March, Iraqi Prime Minister Nouri al-Maliki said Saudi Arabia and Qatar were responsible for the security crisis and growing terrorism in his country, denouncing the Al Saud regime as a major supporter of global terrorism.