Health official says Bangkok clinic at centre of surrogacy scandal violated regulations of country's medical council.
A Bangkok clinic at the center of a surrogacy scandal that left a Thai mother caring for a baby with Down syndrome after carrying twins for an Australian couple, has violated Thailand's regulations on surrogacy, the country's Health Support Service has said.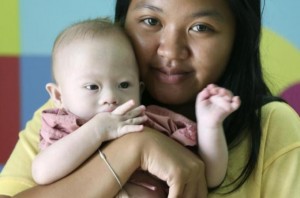 Pattaramon Janbua, the 21-year-old Thai mother, said seven-month-old baby Gammy was left behind by an Australian couple who hired her for the surrogacy, though they took Gammy's healthy twin sister.
The couple has disputed the circumstances, claiming they were told Gammy had a congenital heart condition but not Down's syndrome, and he was left in Thailand as doctors said he would not survive more than a day or so.
After Pattaramon came forward with the information, Thai authorities inspected the clinic in downtown Bangkok.
"The woman who was pregnant was not a relative of the couple and also [the surrogate mother] received money for being pregnant," said Dr Boonruang Triruangworawat, head of the Department of Health Service Support, on Thursday.
"This violated the regulations of Thailand's Medical Council."
Call for ban 
Commercial surrogacy is against the Medical Council of Thailand's code of conduct.
Surrogacy is permitted if blood relatives of the couple are the surrogates, although exceptions are permitted if no suitable surrogate is available.
The clinic was licensed to undertake surrogacies permitted under that regulation, officials have previously stated.
Boonruang said that the doctor who made the surrogacy possible had violated Thailand's medical ethics.
"Thailand's medical council will consider the possibility of revoking the medical certificate of the doctor for violation of medical ethics," said Boonruang.
The case has caused a public outcry in Thailand, prompting calls to officially ban commercial surrogacy in the Southeast Asian country to end the lucrative trade, as well as in Australia.
If Thailand's Medical Council finds it has violated regulations, the head of the clinic could face up to a year in jail and a $620 fine.
Parents located
Australian authorities said on Thursday that they had finally contacted Gammy's biological father, who has been exposed as a convicted pedophile.
Child protection officials had been trying to touch base with the man and his wife since Tuesday, but visits to their home in Bunbury, south of Perth, went unanswered.
It emerged that he was convicted in the 1990s on 22 child sex abuse charges involving girls as young as seven, national broadcaster ABC reported.
An investigation was launched this week into the safety and welfare of the twin sister, but authorities had been unable to find the family.
Helen Morton, the Western Australia child protection minister, said her department had now made phone contact with the biological parents, who cannot be named for legal reasons.