FORMER Premier Nathan Rees will retire from parliament at the next election, he announced at a press conference today.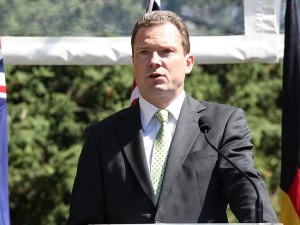 Mr Rees, 46, said it was time for "new challenges" having started life in state politics in the mid 1990s as a staffer for Andrew Refshauge.
"It's been a privilege and an honour to represent the people of Toongabbie," Mr Rees said.
"It wasn't a decision taken lightly but it's been a live issue for me since the last election."
Mr Rees said his stance against corruption and reform of the freedom of information act to establish the office of an information commissioner were proud achievements he reflected on in office.
He said NSW Labor must "never again" allow itself to be run by a "small cabal".
"You know I also took a strong stand against corruption. I know I did the right thing," Mr Rees said.
Mr Rees' departure comes after he stepped aside from the frontbench last year after revelations of an affair he had with a constituent who came to him seeking help which involved trysts in public parks and his electorate office.
Mr Rees told the 40-year-old single mother and public housing tenant he would help her with a court matter but never did so.
Mr Rees apologised for his actions and stood aside from his role as opposition police spokesman.
He only won his seat of Toongabbie by around 200 votes at the last state election and the seat has since been redistributed to make it notionally Liberal.
Mr Rees served as Premier from September 2008 to December 2009.
He was thrust into the job after just one and a half years in parliament, which he served as Water Minister, after Morris Iemma resigned as Premier when caucus would not support his cabinet ticket.
He was rolled by the caucus shortly after axing Joe Tripodi and Ian Macdonald from the ministry.
Mr Rees said at the time of his resignation that anyone who succeeded him would be a "puppet" of Eddie Obeid and Joe Tripodi and afterwards he was excluded from the Keneally government ministry.