ISLAMABAD: Senior lawyers representing former president Pervez Musharraf in high-profile treason case demand a fair trial for the ex-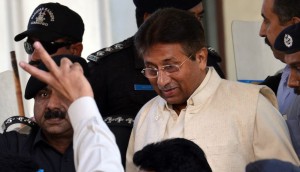 military ruler who left his sprawling farmhouse today but landed in hospital with 'heart problem' on way to trial court. The Special Court, headed by Justice Faisal Arab, adjourned its proceeding till Jan 6 as Musharraf could not appear before it, this time due to heart problem. His exemption from court appearance has been granted by a 3 member bench of Special Court led by Justice Faisal Arab . "All dark clouds will disappear if God willing… we have been informed that Mr. Musharraf has a heart problem, therefore he could not turn up today, but he will, he is a fearless commando… I pray for his health, he is a national asset…," Advocate Ahmed Raza Kasuri spoke to media after the court hearing. Another counsel of Musharraf, Khaild Ranjha, said that Musharraf 'can't even think of disobedience of the court, claimed that his client would appear in the court on Monday if he felt well. Musharraf's lawyers fear he cannot get a fair trial because of his history of disputes with the judiciary and the involvement of Prime Minister Nawaz Sharif whom he once overthrew in a coup in 1999. The 70-year old Musharraf, who is also chief of his party – All Pakistan Muslim League (APML) – has been granted bail in all cases against him he was facing since arrival in Pakistan in March 2013. He says the trial is a politically motivated vendetta. In recent days, Musharraf has said in media interviews that the whole army supported him and was upset about his treatment. He also acknowledged that before his return to Pakistan, the army sent a top envoy to try to persuade him from coming back.
The authorities considering over sending the former president Pervez Musharraf to overseas for medical treatment after he was admitted in the Armed Forces Institute of Cordiology (AFIC) due to 'heart problem' in the morning, . According to sources, doctors after conducting various tests of Musharraf have prepared a medical report to submit in the court. The decision about sending the former president to abroad for medical treatment will be made after the findings of the doctors, sources said. Doctors have banned visitors to meet Musharraf and the military troops have taken security of the hospital where the former military ruler has been admitted. Federal Minister of Defence Khawaja Asif called on Prime Minister Nawaz Sharif today and exchanged views over treason trial against former president Musharraf. Prince Saud Al Faisal, Foreign Minister Saudi Arabia, arriving Islamabad on January 6 and will likely to deliver a special message from King Abdullah bin Abdul Aziz to Prime Minister Nawaz Sharif with over the issue related to former president Musharraf, media reports said.