ISLAMABAD: Former president General (retd) Pervez Musharraf finally appeared before the special court on Tuesday but was not indicted.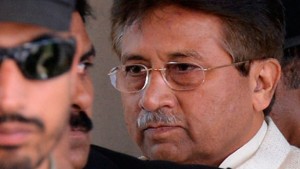 Musharraf in his stance before the court maintained that the jurisdiction of the special court should be decided prior to his indictment. The special court adjourned the hearing till Friday and will announce its verdict on whether or not the former president should be tried in a military court.
Over 1,000 security personnel were deployed to provide Musharraf security along his route from the Armed Forces Institute of Cardiology (AFIC) to the special court.
Earlier, the Special Court had reserved its verdict for conducting the treason trial of former president Gen. (retd) Pervez Musharraf under the Army Act.
Musharraf had been summoned by the special court on February 18.
The government had formed a special court to hear former president General (Retd) Pervez Musharraf's treason trial under Article 6 for suspending, subverting and abrogating the constitution. The former president also faces charges of imposing an emergency in the country on November 3, 2007 and detaining judges of the superior courts.