Source: ESPNcricinfo
It would be difficult to find two harder heads in cricket than those of Justin Langer and Simon Katich. Left-handed batting sons of the West, they have been instrumental in building the reserves of mental strength and concentration that allowed Shaun Marshto compile a memorable Test century on day one of the series against South Africa, making light of the extraordinarily rushed circumstances of his recall, and the pressure of what amounted to his last chance at the top level.
Only five days ago, Marsh sat on his couch at home in Perth with any thoughts of adding to his eight Testmatches
 a million miles from his mind. But a fluent innings in the Big Bash League final and a calf strain to Shane Watson had him flown over to the tour he had been initially selected for then cut from due to injury, and pitted against Dale Steyn, Vernon Philander and Morne Morkel at Centurion.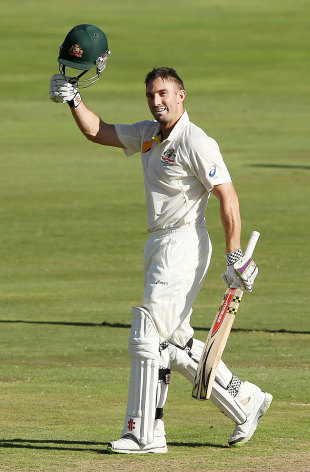 At one level, the rush was beneficial, not allowing Marsh time to think too much about the challenges of travel and the adjustments between formats. But on another it was testament to the work of Langer and Katich, who have taken it upon themselves to instil the kind of resilience and vitality writ large across the innings that has set such a fine platform for Australia.
"I've worked really hard with Justin Langer over the past 12 months," Marsh said of his state coach. "He's one of the most mentally tough players I've come across. Simon Katich has been really good too, from the Scorchers, for the past couple of years. He's been great to talk to as well.
"When you do get to this level you've got to be so mentally tough, and that's something I've had to work really hard on over the past couple of years. Just going out there and having a clear mind and enjoying it are the main two things I've really tried to do over the last six months, just to try and go and have fun and play
 each game as if it's my last.
"I have tried to prepare myself as best I could, I felt like I was hitting the ball as well as I could in the couple of days in the nets. I didn't have that much time to think, so when I got the tap on the shoulder the day before to say I was playing I was ready to go."
One of Katich's strongest views is that players must learn self-reliance, and it was evident at Centurion how well Marsh was able to cocoon himself from all that was going on around him and simply focus on the next
ball. He left many of them well alone, straining the patience of the bowlers and waiting patiently for deliveries in his zones to hit. Twelve boundaries duly accrued.
Each one was music to the ears of the national selector John Inverarity, the coach Darren Lehmann, and others in the team like the vice-captain Brad Haddin, all figures who have kept faith in Marsh despite plenty of reasons to look elsewhere, namely a mediocre first-class record both overall and for this season. No longer a twentysomething, Marsh admitted this was likely to be his last chance.
"Definitely. You get to my age – I'm nearly 31 – and you've got to take your opportunities," Marsh said. "Like 'Hadds' said, once you get to 30 you don't get too many more than one chance. Hopefully I can continue
 on what I've done yesterday and just keep building.
"Obviously they've shown a huge amount of faith in me on the back of my Shield form. It was good for me to get some form yesterday, not only for me but the team as well and the guys who have shown a lot of faith in me. I don't really know [why I've been inconsistent]. I think not playing four or five games or so per year, probably doesn't help with my injuries, that doesn't put you on a path to consistency. But I don't know.
"Hopefully I can keep building now. I've still got a few years left in me, hopefully, and I can get a lot more consistency with it and finish off well."
In addition to helping Australia to a strong position, Marsh's performance shooed away unhappy memories of his horrific last Test series against India, and of Centurion itself. It was here in 2012 that he had been suspended, alongside his brother Mitchell, from the Perth Scorchers team for off-field misdeeds.
"It was this hotel as well [in Johannesburg] so it wasn't great," Marsh said. "It's nice to come back here and play well. I've now got some happier memories. It's been a pretty amazing two weeks for me and to get over here and get the opportunity to play in the first Test and get a century in the first innings has been great so far, hopefully I can continue
 on today.
"A Test hundred in South Africa against quality opposition rates really highly for me and I'm very happy to be out there playing for my country again."