The presidential election session failed once again Thursday over lack of quorum, as Speaker Nabih Berri reiterated that Parliament would remain in open session until the end of the week to vote for a new head of state.
Berri said that he would call Parliament into session at any time that a consensus candidate was agreed upon or a quorum of MPs was reached.
Around 73 lawmakers were present in Thursday's session. There must be 86 MPs present in the chamber before a vote can be held.
There was no sign of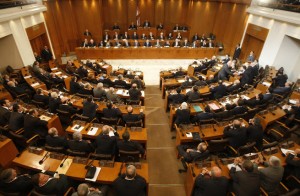 Hezbollah lawmakers in Parliament, but MP Michel Aoun's Change and Reform bloc was present in the chamber, though its MPs said they would not vote.
The lack of quorum is bringing Lebanon ever closer to a presidential vacuum as President Michel Sleiman's term ends Sunday, after lawmakers have now botched five attempts to elect Sleiman's successor in less than a month due to a lack of quorum.
Lebanese Forces leader Samir Geagea, following the session from his Maarab residence, criticized Aoun's MPs for boycotting the vote and said his March 14 coalition had no backup solution to the failure of Parliament in electing a new head of state.
"If MP Michel Aoun and his bloc's lawmakers had attended Parliament's sessions, we would have had a first class president by now," he said. "As long as the other group is maintaining its position over the presidential election, March 14 has no Plan B."
Aoun is set to hold a news conference Monday, the day the country enters vacuum if a president is not elected, to announce his stance over the presidential election.