Kuwait's top ruler will visit Iran for the first time at the end of this month, representing the latest sign that relations between Tehran and its Arab neighbors truly are thawing.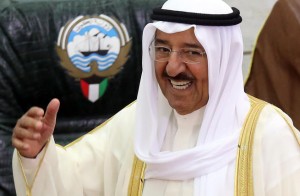 Iran's Foreign Minister told reporters that Emir Sheikh Sabah Al Ahmad Al Sabah will visit Tehran from May 31-June 1st.
This will be the first time that the Emir has visited Iran since he assumed his leadership post in 2006.
Tehran's foreign ministry spokeswoman Marzieh Afkham described the visit as "[ushering] a new page of Kuwait-Iran relations."
However, the emir's office has not yet confirmed the trip publicly.
Kuwait is often considered a "potential bridge" between Iran's Shiite leadership and its Sunni Arab neighbors in the Gulf, in part due to Kuwait's significant Shiite minority, but also due to the emir's critical mediator role.
The emir, who is a former foreign minister, has managed to maintain relatively open relations with Iran,as well as with its Sunni neighbors such as Tehran's rival, Saudi Arabia.