Australian Media Rallies for Detained Journalists in Egypt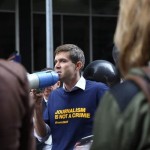 The International Federation of Journalists (IFJ) and Australian affiliate, the Media Entertainment & Arts Alliance (MEAA), stood in solidarity with media organisations globally in a day of protest, calling for the immediate release of the Al Jazeera journalists and staff detained in Egypt.
Speaking at a public rally in Sydney's Martin Place today to mark the Day of Action for Freedom of Journalism, MEAA federal secretary Christopher Warren said: "This is a global day of action for journalists detained in Egypt. It requires a global response. We call on Prime Minister Tony Abbott to personally appeal to Field Marshal el-Sisi and demand the release of all the journalists detained in Egyptian prisons for their journalism including our colleague Peter Greste."
The Australian media union leader noted that in Egypt journalists are being raided, rounded up, detained and put on trial for their journalism. Egypt remains one of the most dangerous countries in the world for journalists. Since June last year, six Egyptian journalists have been murdered in targeted killings and cross-fire incidents. Reporters covering protests in Cairo have been assaulted, their equipment seized, and they have been shot at with live ammunition; 19 journalists were arrested in a single day.
"We're here today to show our support for freedom… The freedom of our communities to be informed.  The right of people to know what governments do in their name. The freedom of the media to scrutinise the powerful and hold them to account. The freedom to shine a light on the truth… And the freedom of journalists to do their job without fear, without harassment and without intimidation. Journalism is not a crime. Journalism is not terrorism," he said.
The spate of arrests and brutal assaults were a deliberate attempt to silence journalists, to muzzle media outlets and prevent them from doing their duty of informing their communities, according to Warren.
"Peter Greste and his Al Jazeera colleagues have been imprisoned for their journalism. They have been locked up for 60 days for doing their job. Their work is there for all to see – it is honest, ethical and responsible journalism. Peter Greste and his colleagues are not criminals, they are not terrorists."
Last month, Greste wrote from his prison cell: "As a journalist, I am committed to defending a fundamental freedom of the press that no one in my profession can credibly work without. One that is deemed vital to the proper functioning of any open democracy, including Egypt's."
IFJ Asia Pacific deputy director Jane Worthington called for journalists, media organisations and human rights organisations around the Asia Pacific and the world to keep fighting beyond the International Day of Action.
"Peter Greste and his Al Jazeera colleagues stand as symbols of free expression and free media – which is at the core of our profession. The longer they are imprisoned, the harder we must fight for them to be freed – for their sake and also for the sake of free expression across the globe," she said.