Palestine Solidarity day will be observed all over the country on Sunday (today), on the appeal of the Ameer, Jamaat e Islami, Pakistan, Siraj-ul-Haq.
A Gaza Million march will be held in Karachi and the JI chief will lead the march. Rallies in support of the oppressed Gaza Muslims facing Israel's brutalities will be taken out in big cities and towns including Lahore, Faisalabad, Gujranwala, Multan, Sargodha, Peshawar, Quetta and Rawalpindi.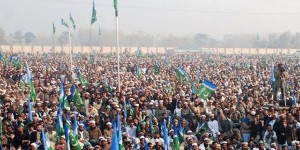 Shabab e Milli, the youth wing of the JI and the Jamiat e Talaba Arabia, will also stage rallies and meetings on the occasion. The JI chief, in his message on the occasion, appealed the masses to join the Palestine day programmes in order to demonstrate their solidarity with the oppressed Palestinian brethren and to show their hatred for the Zionist state.