Nearly 150 at Yasukuni shrine, which honours war dead including many convicted of war crimes against neighbours.
Nearly 150 Japanese politicians have paid homage at the Yasukuni shrine which honours the nation's war dead including a number of senior military and political figures convicted of war crimes after World War II.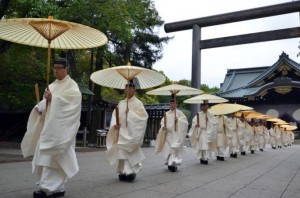 China and South Korea see the shrine as a symbol of what they say is Japan's unwillingness to repent of its aggressive warring last century, while the US tries to discourage visits, which it views as unnecessary provocations.
Shinzo Abe, Japanese prime minister, stayed away from Yasukuni, having offered a symbolic gift on Monday at the start of the three-day spring festival.
However, the right-wing minister for internal affairs and communications, Yoshitaka Shindo, was among the worshippers who visited on Tuesday. It was his second visit in 10 days.
"I renew my faith in peace so that such tragedies will never be repeated. This is the belief that I always keep in mind when I come to Yasukuni Shrine," he said, adding that he was there in a private capacity.
The mass visit will inevitably further aggravate strained ties in East Asia, and could irritate the US, coming the day before the US president, Barack Obama, arrives on the first leg of a four-nation trip, which also includes Seoul.
Abe's own visit to the shrine on December 26 immediately sparked fury in Asia. Many of Japan's neighbours suffered terrible atrocities at the hands of the Imperial army during the second world war, and view visits to the shrine as an insult.
Conservative politicians make regular trips to the shrine during spring and autumn festivals, and on the August 15 anniversary of Japan's defeat.
"Speaking personally, my father is enshrined here," said Hidehisa Otsuji, a member of Japan's upper house of parliament, who was at Yasukuni.
"The souls revered here are the people who lost their lives purely for the sake of the country."