Israel hits "terrorism targets" in Gaza and ends truce talks after three rockets land in Israel, violating ceasefire.
Israel has launched air raids on "terrorism targets" in Gaza and recalled negotiators from Cairo after three rockets were fired from Gaza into Israel, as efforts to agree a permanent ceasefire appeared to unravel.
The Israeli military said that rockets landed in open areas near the town of Beersheeva. Sources media that they were fired from Shujayea in the Gaza Strip.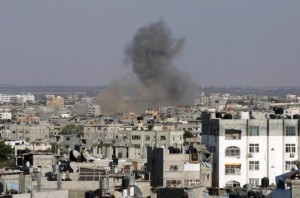 Benjamin Netanyahu, the Israeli prime minister, ordered his army to attack targets in Gaza, and recalled from Cairo negotiators who were involved in indirect talks with Palestinians on a permanent ceasefire.
"In response to Hamas's violation of the truce, the prime minister and defense minister have ordered the IDF [Israeli army] to once more attack terror sites in the Gaza Strip," a government official said.
Hussam Badran, a Hamas spokesman in Doha, told media that the group could not confirm whether Hamas or any other factions fired rockets into Israel and that the next few hours would clarify the situation.
Palestinian and Israeli negotiators had been working towards a permanent ceasefire to end the latest Gaza war, in which more than 2,000 people have died. Most of the dead were Gazan civilians.
The rocket fire broke a temporary truce valid until midnight local time (9pm GMT on Tuesday).
Reporter, reporting from West Jerusalem, said: "This is the first time that rockets have been fired since late Wednesday, and come in the hours approaching the latest deadline for the ceasefire negotiations.
"It is a tense moment, bearing in mind that Netanyahu had warned any fire would be met by, in his words, 'a very aggressive response'."
Reporter, reporting from the Jabaliya area of Gaza, said: "Those rockets were fired from the Shujayea area of Gaza. No group has claimed responsibility.
"This is the last thing anyone who hoped for a ceasefire deal wanted."