Suicide bombing near council headquarters and attack by gunmen on police checkpoint kill seven, as violence continues.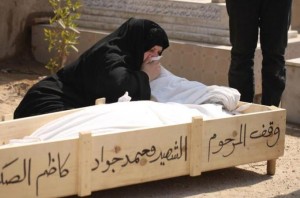 Attacks in Iraq, including a suicide bombing near the Anbar provincial council headquarters, have killed seven soldiers and police, officials say.
In Ramadi, the capital of Anbar province, a suicide bomber detonated a vehicle near the provincial council headquarters, killing three soldiers and wounding another four.
Anti-government fighters have occupied areas of Ramadi since early January and also control the city of Fallujah to its east, in what has become a major security challenge for the government.
Gunmen also attacked a police checkpoint in a village west of Baiji, a town north of the Baghdad, killing four police and wounding three.
The attacks came a day after violence killed 35 people.
Iraq has been hit by a year-long surge in violence that has reached levels not seen since 2008, driven by widespread discontent among the Sunni Arab minority and the civil war in neighbouring Syria.
More than 650 people have been killed in attacks and clashes since the start of this month, and more than 1,600 since January 1