BAGHDAD: Iraqi officials say gunmen have attacked a police brigade headquarters north of Baghdad, killing the commander and seven policemen and wounding 15.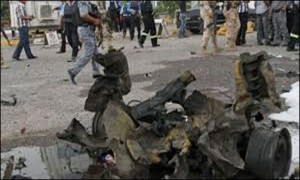 Police officials say the attack took place on Friday morning in Injan village, about 120 kilometers (75 miles) north of Baghdad. A suicide bomber first rammed his explosive-laden truck into the building. This was followed by a firefight between other attackers and policemen.
The brigade commander, Brig. Ragheb al-Omari, and his assistant officer were among the dead. Medical officials confirmed the casualties.
All officials spoke on condition of anonymity as they were not authorized to speak publicly to journalists.
Violence has spiked in Iraq since last April, a surge unseen since 2008. The relentless attacks have become the Shia-led government´s most serious challenge.