The importance of Asian solidarity with regard to a wide range of challenges confronting the region formed the central theme of the bilateral discussions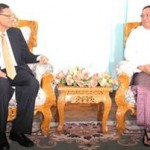 which took place on Sunday at the Minister of Foreign Affairs in Nay Pyi Taw between Professor G. L. Peiris Minister of External Affairs and Mr Wunna Maung Lwin Minister of Foreign Affairs of the Union of Myanmar. The two Foreign Ministers noted that Sri Lanka and Myanmar share common international platforms in the United Nations, the Colombo plan, the Asia Cooperation Dialogue, the Asian Regional Forum and the Non-Aligned Movement. They expressed the wish to continue working together in these fora on matters  of mutual interest. One of the strongest bonds between the two countries noted by the Foreign Ministers was the heritage of Theravada Budhism.  Minister Peiris expressed the profound gratitude of Sri Lanka to Myanmar of the gift of an elephant tusker last year to the Bellanvila Raja Maha Vihara. The Myanmar Minister pleged the fullest co-operation of his country for the holding of the 150th anniversary of the Higher Ordination of the Ramanna Nikaya, to be held in Sri Lanka in June this year.
Emphasis was placed in the talks on the promotion of Buddhist pilgrim tourism  as a means of enhancing people to people interaction and direct airline connectivity was discussed.
The Ministers agreed to establish a mechanism for bilateral political consultation led by the Foreign Secretaries to improve each other's understanding of the policy perspectives of the two countries.
Minister Perris conveyed to his Myanmar counterpart the interest shown by Sri Lankan banks to open branches in Myanmar. Attention was paid also to the expansion of trade and investment and in particular, to the simplication of import and export procedures. To facilitate all these matters an early meeting of the Joint Commission was agreed upon.
The discussions between the two Foreign Ministers took place on the sidelines of the 14th BIMSTEC Ministerial Meeting in Nay Pyi Taw.