US and EU officials agree on new sanctions against Moscow, as Russian military drills continue along Ukrainian border.
Source:
AFP And Reuters
US President Barack Obama and top European leaders are moving ahead on a new round of sanctions against Russia, US officials have said.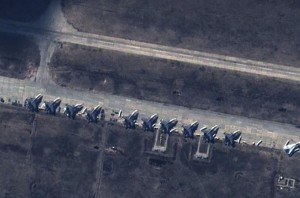 In a joint statement on Saturday, the Group of Seven nations – Canada, France, Germany, Italy, Japan, UK and US – said that they will "move swiftly to impose additional sanctions on Russia".
"Given the urgency of securing the opportunity for a successful and peaceful democratic vote next month in Ukraine's presidential elections, we have committed to act urgently to intensify targeted sanctions and measures to increase the costs of Russia's actions," the statement said.
AFP news agency, citing a source close to the issue, reported that the US sanctions could be imposed as early as Monday. The source, a senior US official, added that each country "will determine which targeted sanctions they will impose".
"These sanctions will be coordinated and complementary, but not necessarily identical," the official said.
German Chancellor Angela Merkel said EU foreign ministers would meet soon to discuss the issue after speaking by conference call with Obama, British Prime Minister David Cameron, French President Francois Hollande and Italian Prime Minister Matteo Renzi.
"Given the absence of progress, we have to think about – and not just think about, but act on – the option of new sanctions," Merkel said.
"For this purpose, European Union foreign ministers will meet as soon as possible."
US State Department spokeswoman Jen Psaki told reporters that Washington had been working in "lockstep" with the Europeans.
"It's safe to say we're in the stage of not just preparing but coordinating on sanctions and what's next."
It likely that the third round of sanctions against Russians and Ukrainians blamed for the unrest in the former Soviet satellite will again target individuals and entities, reported AFP.
Both US and EU officials have already blacklisted more than a dozen individuals including the breakaway leaders in Crimea, annexed by Moscow last month.
Obama said earlier on Friday during a visit to South Korea that Washington had already lined up more targeted sanctions against Russia "that are ready to go".
But he also signalled the new sanctions would not involve an attempt to target key areas of the Russian economy such as mining, energy and the financial sectors.
US officials have said those measures would only be considered if Russia sent its regular forces across the border into eastern Ukraine.
"The heads of state and government have called for a rapid reaction by the G7 and raised the prospect of new sanctions by the international community against Russia," the French presidency said in a statement.
'NATO spies'
The developments come as pro-Russian rebels holding a group of military observers from the Organisation for Security and Cooperation in Europe (OSCE) in eastern Ukraine accused them of being "NATO spies" and vowed to continue detaining them.
"Yesterday, we arrested some NATO spies… they will be exchanged for our own prisoners. I don't see any other way they will be freed," Denis Pushilin, the head of the rebels' self-declared Donetsk Republic, told reporters on Saturday.
Pushilin was speaking in front of the SBU security services building in rebel-held Slavyansk, where the OSCE team was being held.
Russia, meanwhile, said it would take all possible steps to free the observers, according to Russian news agencies cited by the Reuters news agency. The news agencies quoted Russia's envoy to the Vienna-based Organisation for the OSCE.
"We think that these people need to be freed as soon as possible," Andrei Kelin said in comments cited by ITAR-TASS.
"Russia as a member of the OSCE will undertake all possible steps in this matter."