Hundreds line up for final farewell of Michael Brown, whose shooting by police sparked weeks racially-charged unrest.
The funeral of the black teenager who was shot dead by a white police officer in Ferguson is under way in calm atmosphere after weeks of unrest.
Mourners sang, clapped and danced on Monday at funeral services for Michael Brown, remembering him with words of goodwill and joy rather than the violence and outrage that followed his killing by a white police officer.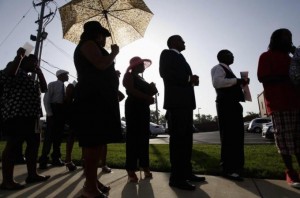 Brown's body lay at the Friendly Temple Missionary Baptist Church in a black and gold casket, topped with the St Louis Cardinals baseball cap he was wearing when he was killed on August 9 in Ferguson, Missouri.
As hundreds of people filed into the modern red-brick church on Dr Martin Luther King Drive in St Louis, Brown's coffin was surrounded by photos of him as a child, graduating from school and smiling in his Cardinals cap.
"There are no goodbyes for us, wherever you are you will always be in our hearts," read a sign accompanying one of the photos.
Gospel music filled the sanctuary as hundreds of people stood inside the church, many dancing, singing and clapping.
Outside, gatherers sang the civil rights hymn "We Shall Overcome," in a scene markedly different from the violent
protests that rocked the St Louis suburb of Ferguson after Brown was shot to death.
Appeal to calm
Brown's father made an appeal for calm on the eve of the services.
"All I want … is peace while we lay our son to rest. Please, that's all I ask," said Michael Brown Sr, the father of the victim, on Sunday at a rally against police violence.
On Monday morning the city of Ferguson showed no signs of unrest. Children went back to schools for the first time since their classes got delayed from last week out of concern for student's safety.
reporter, reporting from Ferguson, said: "Tensions eased somewhat. We haven't seen the trouble that we have witnessed over the past couple of weeks."
However, authorities remained braced for a possible flare-up around the funeral with the state of emergency remaining in effect, although clashes between protesters and police had significantly decreased by midweek and the National Guard began a gradual withdrawal from the St Louis suburb on Friday.
For well over a week, authorities had arrested dozens nightly in clashes with demonstrators, drawing attention to often-troubled US race relations.
Police were criticised for mass arrests and use of heavy-handed tactics and military gear, which was widely seen as stoking an already volatile situation.
President Barack Obama has ordered a review of the distribution of military hardware to state and local police, a senior administration official said on Saturday.