LAHORE: Authorities have blown up a strategic embankment to divert raging floodwater away from Jhang, officials said Wednesday, as the death toll passed 250 around the country.
More than half a million people have been effected by the floods which began in the Himalayan territory of Kashmir last week and have flown downriver into Punjab, the National Disaster Management Authority said.
The waters have swept away homes and destroyed roads and swathes of farmland in a chilling reminder of the damage wrought by 2010 floods, the worst in the country's history, that killed more than 1,700 people and affected 18 million.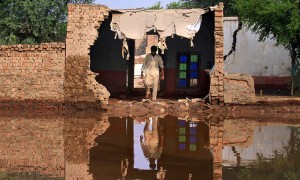 In the central city of Jhang in Punjab, authorities deliberately breached an embankment to divert floodwater, a senior provincial disaster management official told AFP.
"This breach was the last option to save the lives and property of residents in Jhang, this was a must to save the city," the official told AFP.
The city had a population of around 400,000 at the last census in 1998.
Khawaja Asif, minister for defence, water and power, confirmed the breach and told parliament that it was done "to avert catastrophe".
Resident Muhammad Zulfiqar, told AFP: "I can see water flowing everywhere and the water level has risen up to eight feet in some villages.
Those left behind are on the rooftops of their houses. "A senior rescue official in Lahore told AFP that some 100 boats were rescuing residents to and more than 4,000 people had so far been evacuated in Jhang.
At least 256 people have been killed nationwide, according to the National Disaster Management Authority, and 581,193 "affected" — a term that covers everything from loss of property to bereavement.
The army meanwhile has been carrying out rescue operations, deploying seven helicopters and 90 boats in Jhang and the nearby district of Chinot to rescue some 2,500 people, according to a statement.
Authorities were also preparing explosives to breach more embankments further downstream to protect the major city of Multan, lawmaker Chaudhry Abdul Waheed Arain said, in a move that could flood some 200 villages.
Nusrat Mai, a woman from the village of Basti Ghota near Multan, told AFP from a makeshift camp: "The floods have completely destroyed us, boats came to rescue us… we don't have food and we don't have anything.
"In Pakistani Kashmir, where the flooding began, more than 20,000 people living in mud houses in remote areas are now facing food shortages after roads were destroyed.
"It took me seven hours to reach here and my house is nine kilometers away which has been damaged by rains," Mohammad Hussain, 60, accompanied by his wife and six children told AFP from the village of Naikabad, some 170 kilometers (106 miles) east of the region's main city of Muzaffarabad.