The Oklahoma City Thunder forward wins the award for the first time after averaging 32 points per game this season.
Kevin Durant of the Oklahoma City Thunder is named as the National Basketball Assoc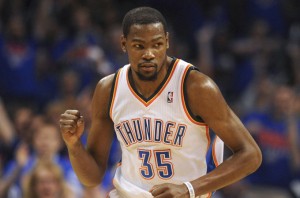 iation's Most Valuable Player for the 2013-14 season.
Durant won the MVP award for the first time in his seven-year career, claiming the honour by a landslide after capturing his fourth scoring title in five seasons and leading the Thunder to the Northwest Division title and the NBA playoffs.
Miami Heat's LeBron James, who had won the MVP title four times in the last five seasons, finished a distant second in the voting while Blake Griffin of the Los Angeles Clippers was third, Joakim Noah of the Chicago Bulls fourth and James Harden of the Houston Rockets fifth.
Durant's landslide victory
Durant received 119 first-place votes from a total of 124 votes cast by sportswriters and broadcasters in North America plus one special fan vote. James picked up the other six first-place votes.
During the regular season, five-time All-Start Durant averaged a career-best 32 points per game to go with 7.4 rebounds and 5.5 assists, also a career high.
In capturing his fourth scoring title, he joined Michael Jordan, Wilt Chamberlain, George Gervin and Allen Iverson as the only players to win at least four scoring titles.
The 25-year-old forward, who also won a gold medal with the U S team at the 2012 London Olympics, scored more than 40 points in a game 17 times during the season.