World number one to meet Kei Nishikori who becomes Japan's first semi- finalist in the tournament in almost a century.
Novak Djokovic has defeated Andy Murray to set up a US Open semi-final clash against Kei Nishikori, who has become Japan's first semi-finalist in almost a century.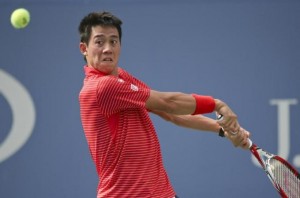 World number one Djokovic, the 2011 champion, reached his eighth consecutive US Open semi-final by beating Murray 7-6 (7/1), 6-7 (1/7), 6-2, 6-4 for his 13th win in 21 meetings against his childhood rival who had taken the 2012 title.
Nishikori, the 10th seed, had earlier on Wednesday needed more than four hours to defeat third seed Stan Wawrinka 3-6, 7-5, 7-6 (9/7), 6-7 (5/7), 6-4 to become the first Japanese man in the semi-finals in 96 years.
Wimbledon champion Djokovic and Murray had spent a record-equalling 4 hours 54 minutes contesting the 2012 final and their quarter-final clash threatened to surpass that mark when they needed more than two hours to get through the first two sets of a tie that started on Wednesday and finished Thursday.
By the end, however, Murray was struggling with what appeared to be a recurrence of his long-standing back problem, a legacy of having spent three and a half hours more on court than Djokovic in getting to this stage.
But victory was also a testament to the top seed's intimidating defensive skills as he saved 12 of 16 break points in the three-hour 32-minute encounter which saw Murray commit 65 unforced errors to Djokovic's 48.
"We both gave our best and at times the tennis was not nice but that was due to the intense physical battle in the first two sets," said Djokovic.
"I didn't expect anything less from Andy. Our last few matches have been three and four hours and he has a lot of quality on all sorts of surfaces, "I knew it would be a tough match and that the more aggressive player would win."
'Great for Japan'
Murray, still without a title since his historic 2013 Wimbledon triumph, said that he struggled as the match wore on.
"I tried my best to hang in there in the fourth set but he was fresher than me or at least he appeared to be," said Murray, who admitted that he felt stiffness in his hips and back as the night got cooler.
"The pace of my serve slowed significantly and he was a little more solid. I fought hard but it wasn't enough."
Djokovic and Nishikori are 1-1 in career meetings but their last clash was three years ago.
"It's great for Kei and Japan for him to be in the semi-final. He serves and moves very well," said Djokovic who has made the final in New York in the last four years.