By Syed Atiq ul Hassan:
Cricket, often dubbed the "gentleman's game," holds a unique power to unite the hearts of both Indians and Pakistanis, transcending borders, and political divides.
Last night (Wednesday, 27 Sep), the warmth and camaraderie at the Rajiv Gandhi International Airport in Hyderabad, as Indian cricket enthusiasts welcomed the Pakistan Cricket team, sent a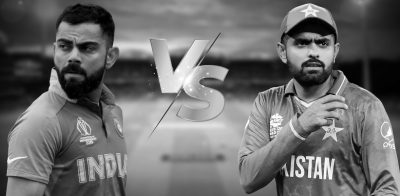 powerful message not only in India but across the globe. Cricket lovers worldwide, particularly in Pakistan and India, are eagerly awaiting the India-Pakistan match on Indian soil.
Beyond being a sport, cricket has emerged as a unifying force between these two South Asian neighbours. While they may hold differing opinions on various matters, when it comes to cricket, their unity is unwavering. For them, cricket is more than just a game; it's a shared passion that transcends boundaries.
The upcoming ICC One-day World Cup games, where both teams will face off, have already generated excitement and a sense of togetherness among the people of the subcontinent, despite the historical enmity.
Since the partition of the Indian subcontinent in 1947, Pakistan and India have grappled with disputes, notably over Kashmir. However, their cultural and linguistic ties remain strong, with cricket standing as a testament to their shared heritage. Cricket stars are celebrated like movie idols, and a victory is a national triumph, while a defeat stirs national introspection.
The hope now rests on this shared enthusiasm for cricket to propel a nascent peace process through people-to-people interactions, fostering harmony between the rival nations.
It is evident from the excitement among the citizens of both nations that they desire to see each other and cultivate friendly relations. The politicians and governments, however, have struggled to resolve their differences and enable peaceful coexistence.
Notably, the Pakistan Cricket Board (PCB), the Board of Control for Cricket in India (BCCI), and the International Cricket Council (ICC) rake in millions of dollars when Pakistan and India face off. By resuming bilateral series in various formats, these cricket entities can not only benefit financially but also open doors for trade, tourism, and cooperation in other sectors. This relies on the sincerity of the politicians and governments of both nations, working in the best interests of their people.
With this visit of the Pakistani Cricket team to India and matches played on Indian soil, the people of both countries, as well as cricket enthusiasts worldwide, are poised to witness a memorable spectacle that hopefully could bring the two nations closer together.
The business communities in both India and Pakistan foresee substantial gains from the restoration of friendly relations, particularly the resumption of bilateral cricket games. In this endeavour, the media in both nations and cricket commentators play a pivotal role. Journalists, YouTubers, commentators, and combined TV shows featuring Pakistani and Indian cricket experts are contributing significantly to bridging the gap and fostering understanding between the two countries.
In conclusion, cricket serves as a beacon of hope for India and Pakistan, offering an avenue for unity and friendship amid historical differences. The potential benefits, both in terms of sport and broader cooperation, are immense, provided the leaders of these great nations prioritize the interests of their people above all else.
(Syed Atiq ul Hassan is a Sydney-based Journalist, media analyst, and anthropologist, his email address is shassan@tribune-intl.com, mobile: +61 479 143 628).
[END]