KARACHI: The demands of mainstream political leaders continue to pour in, urging the federal government to allow ex-president Pervez Musharraf going abroad to see his ailing mother in Dubai,
MQM chief Altaf Hussain said it was matter of elderly and ailing mother of a person, which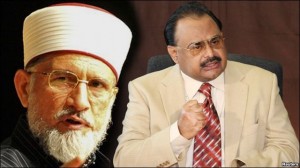 should be treated on humanitarian grounds. Musharraf should be allowed to visit her mother, he demanded. He said government should withdraw Musharraf's name from the Exit Control List (ECL). He also appealed the lawyers of Musharraf to have in-depth analysis of interior ministry orders and file an appeal in the Supreme Court.
Chief of Pakistan Awami Tehreek, Dr. Tahirul Qadri, said condition of Musharraf's mother was critical and the government shouldn't make this issue politicized. In this connection, he said, Musharraf should be permitted unconditionally to see his mother on humanitarian grounds and Islamic principles.